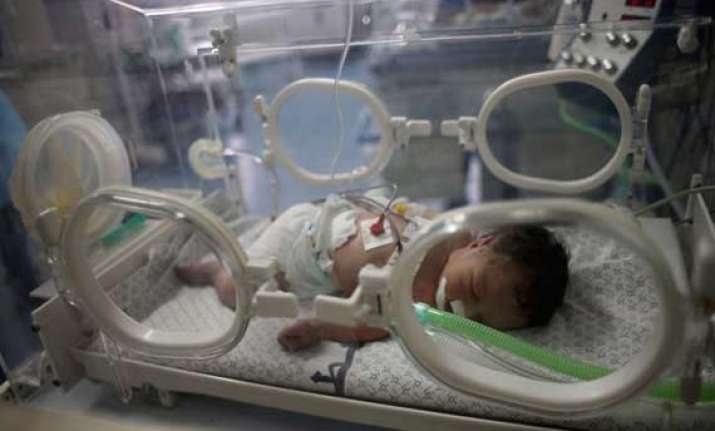 New Delhi: Her Palestinian mother never saw her being born. She was already dead, killed in the Israeli strikes on Gaza Strip on Sunday.
But the baby, a girl, miraculously survived, and was delivered from the womb of her dead mother by doctors at a hospital in Khan Younis in the southern Gaza Strip.
The doctors called her "the miracle baby", delivered by an emergency caesarean operation from a lifeless body.
23-year-old Shaymaa al-Sheikh 'Ali was eight months pregnant when she died during an airstike.
An Israeli tank shell reduced her home in the central Gaza strip town of Deir al-Balah to rubble.
Her husband,  Ibrahim Sheikh Ali, was wounded when two floors of the family's home were destroyed following the airstrike
Shaymaa died en route to hospital, where doctors realised her unborn child still had a heartbeat.
The four-day-old girl, who has also been named Shaymaa, is expected to remain in hospital for up to five weeks.
She is in a stable condition after suffering a shortage of oxygen. She is now breathing through an oxygen mask.
The baby's maternal grandmother, 43-year-old Mirfat Qanan, is thankful for this miracle amid such tragedy.