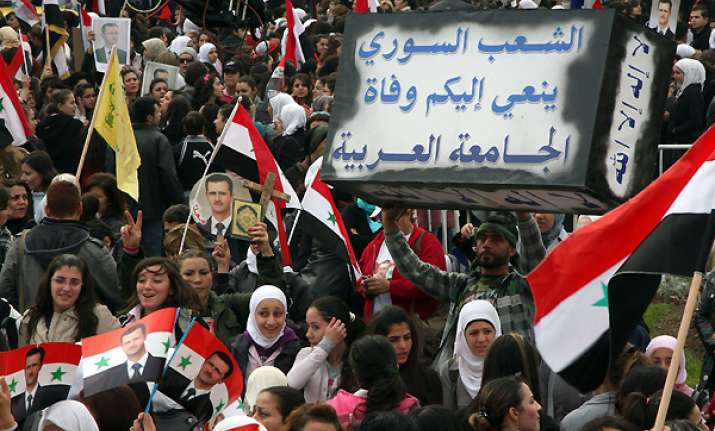 Nicosia, Nov 24: Eighteen members of Syria's security forces and two deserters were killed in clashes today, mainly in the flashpoint province of Homs, where at least 13 civilians also died, activists said.

"Eleven soldiers and members of the security forces were killed in skirmishes" with deserters in the town of Huleh, the Syrian Observatory for Human Rights said.

The rights group said security forces killed at least 12 civilians around the province in central Syria, including three in the Bayyada area of the city of Homs.

In another attack, seven military pilots were killed when gunmen ambushed their bus in the centre of the country.

The attack, carried out by "armed Bedouins", took place near the city of Palmyra, said an opposition member based in Homs, and was claimed by the rebel Free Syrian Army.

In a statement the FSA said "a brigade carried out the attack on a bus transporting pilots on the road between Palmyra and Homs, killing seven officers and the driver."

The FSA, whose leadership is based in neighbouring Turkey, has claimed several attacks in recent weeks against the Syrian military and pro-regime militias.

According to FSA chief Riyadh al-Asaad, the rebel force now has 20,000 men in its ranks, which it says are swelling each day.

Earlier, Asaad called for foreign air strikes on "strategic targets" in Syria to speed up the fall of the regime, in a telephone interview with AFP.

Asaad said limited foreign intervention would "allow us to triumph in a relatively short time" and singled out missile batteries in coastal areas as prime targets for attack.