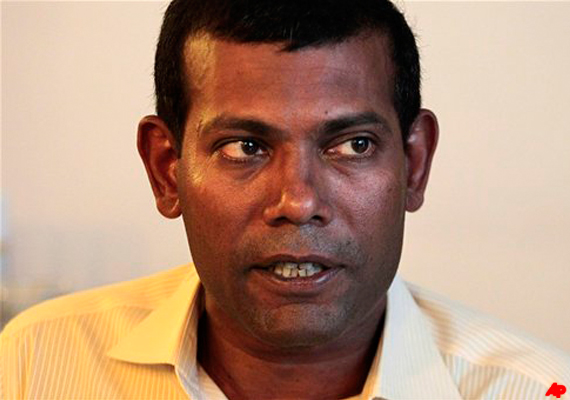 Male, Feb 9: A criminal court in the Maldives has issued an arrest order for former president Mohamed Nasheed and his former defence minister, party officials told AFP today.

"The court has given the order to arrest Nasheed and the (former) defence minister," Adam Gafoor, a senior figure in Nasheed's Maldivian Democratic Party, told AFP. 

A second party source confirmed the news, but new Maldives police chief Abdulla Riyas said he had no knowledge of the order.

"I am not aware of it," he said.

A Colombo report said, the  wife and daughters of former Maldives' president Mohamed Nasheed have fled to Colombo as violence worsens, a presidential spokesman in Sri Lanka and a family member said today.

"His wife and two children arrived and spoke to the president over the phone last evening," a spokesman for Sri Lanka's President Mahinda Rajapakse, Bandula Jayasekera, told AFP.

"President Rajapakse was concerned over the safety of Mr Nasheed and his family."

A family member in Male, who asked not to be named, confirmed the news, saying: "They are in Sri Lanka... It's much safer than here."

In Male, the Maldives police, a key player in events that led to the resignation of president Mohamed Nasheed, accused his party of fomenting "terrorism" as violence spread across the holiday resort archipelago. 

In a statement posted on its website late yesterday, the national police service confirmed that local police stations "across the Maldives" had been attacked in the wake of Nasheed's claim that he was ousted in a coup.

Pro-Nasheed protesters had committed "atrocious acts of inhumane crimes" the statement said, citing "battery, assault and inflicting destruction of private possessions, trade outlets and government property."

"With the level of hostility detected in the current turmoil, it has also been feared that the ongoing protests by the former ruling party has steered towards acts of terrorism," it said.

A police mutiny that capped three weeks of anti-government protests was the tipping point that led to Nasheed's resignation on Tuesday.

The former president later said he had been the victim of a "coup", describing how armed police and soldiers had frogmarched him into his office and forced him to pen the formal announcement that he was stepping down. 

Since then, Nasheed supporters and activists from his Maldivian Democratic Party have clashed with security forces in the capital Male and stormed police stations in a number of outlying atolls.

"Such terror filled in the hearts of law-abiding civilians is of deep concern," the police statement said, issuing a stern public warning to anyone obstructing the security forces.