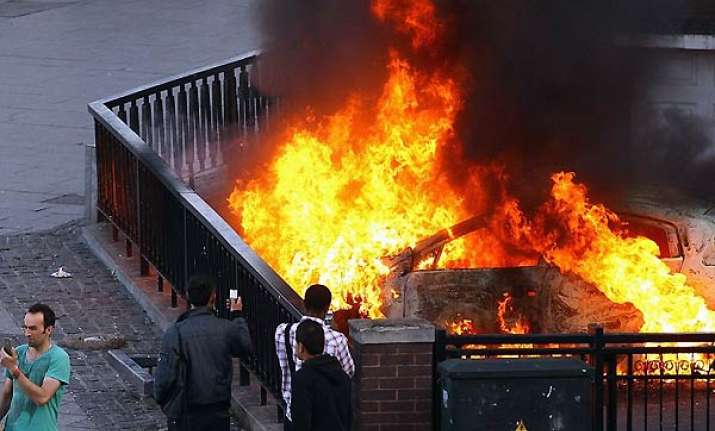 London, Aug 10: Fresh violence flared around the United Kingdom as parts of the West Midlands and Manchester came under siege from a series of copy-cat riots overnight.

In shocking scenes, children as young as nine were seen taking part in the large-scale looting of shops and businesses in Manchester, The Daily Mail reported.

The disorder came as 16,000 police officers have been deployed on London's streets in a bid to contain a fourth night of violence which spiralled out of control across dozens of London suburbs yesterday.

Disorder and looting has rocked parts of Manchester particularly, although there has also been violence in Wolverhampton, West Bromwich, Nottingham, Leicester and Liverpool - although police appear to be containing the unrest.

But in what was by far the most serious incident of the night three men died in Birmingham after they were hit by a car.

West Midlands Police is also currently investigating reports that shots have been fired at a police officer just outside Birmingham city centre, thought to be in the Aston area, according to Sky.

None of the violence has escalated in the same way as it did in London last night. The capital has remained relatively calm tonight.

So far, 109 people have been arrested in the West Midlands, 108 in Manchester and Salford, and 44 in and around Liverpool.In Bristol there were 19 arrests for offences, including having a balaclava in your possession.

There was also a large blaze at a derelict art college in Gloucester, with several smaller fires, while police also dealt with small groups who attacked them.

In Birmingham mobs rampaged through the city centre but unlike the previous night's riots, when shops were looted, the gangs mainly wreaked destruction, set fire to cars and attempted to provoke police.

Rioters continually regrouped and dispersed, forcing police to chase them. Crowds of around 500 assembled in the centre of Birmingham and the atmosphere quickly turned menacing.
During the disturbances three men - two brothers and a friend - were involved in a hit-and-run incident in which two were killed and one critically injured, apparently after just leaving a mosque. 

'The incident occurred just after 1am in Dudley Road. Three men were taken to hospital where two subsequently died from their injuries. A third male remains in a critical condition.

'West Midlands Police have launched a murder inquiry, arrested one man in connection with the incident and recovered a vehicle from near the scene which will be examined by forensics experts.'

Police appealed for witnesses or anyone with information to come forward.
A relative of one of the dead men victims told Sky News this morning: 'They were not in the way or blocking the road. The car swerved towards them.'
He said that the three had been on the street protecting their business - a car wash - after violence the previous night, when two cars swerved on to the pavement and struck them.

The three were taken to Birmingham City Hospital, where a large crowd gathered this morning at around 5.45am and police in riot gear stood guard at the main entrance, according to the BBC.

Youths also stormed Tesco, the post office, Marks & Spencer and House of Fraser and smoke poured from a flaming car blocking views of the city's iconic Selfridges building.

Meanwhile in London the situation was calmer compared to last night's violence which spread across dozens of suburbs.

However, there were small pockets of violence in Canning Town and Enfield, while there was a fire at a council recycling centre in Tottenham. The borough of Eltham also saw more than 200 people take to the streets.

In Manchester, about 100 yobs have looted shops including Foot Asylum in the Arndale Centre and Liam Gallagher's recently opened fashion boutique in King Street had its windows smashed.

A marauding gang of up to 200 youths, most of them masked or wearing hoodies, fought a running battle with police, kicking in windows of supermarkets, jewellery stores and mobile phone shops.

In the heart of the city, Miss Selfridge was set alight and stores including Swarovski, T-Mobile, French Connection and Marks & Spencer all had their windows smashed.

The mob had almost total control of the city centre streets for more than an hour and a half before deployments of plain clothed officers – some armed with telescopic truncheons – made raids on specific targets to apprehend looters.

In Swarovski, two looters were arrested by a team of five plain clothed officers and they had to call for backup as they were surrounded by a baying mob of around 50 masked men.

Officers on horseback and dog handlers walked through the streets, flushing out rioters. But gangs moved off and smashed up a Sainsbury's store before gathering on the main Deansgate thoroughfare.

In Salford, the Central Housing office was set alight while youths smashed shop windows, torched cars and looted businesses.

Assistant Chief Constable Garry Shewan of Greater Manchester Police said it was the worst violence the city had experienced in 30 years.

He said: 'Criminals have brought shame in particular on the streets of Salford and Manchester.'

He added: 'We want to make it absolutely clear - they have nothing to protest against. There is nothing in a sense of injustice and there has been no spark that has led to this. This has been senseless violence and senseless criminality of a scale I have never experienced in my career before.'
In the West Bromwich area thugs broke into shops while hundreds of rioters rampaged through the town centre leaving a trail of smashed windows and shattered businesses.

Dozens of them were barely in their teens. One boy, aged around 12, hurled stones at a police van before shouting abuse at riot officers.

One couple ventured on to the streets to insult police while pushing their baby girl in a pushchair.

The father, called Neil, in his early 20s, said: 'This is brilliant, we heard it was all kicking off on Twitter and came right here.

I wanted my daughter to see what was going on because this is part of history, the people are fighting back. I'll take her home if it gets too dangerous but she's fine for now.'

A gang of 30 youngsters, all sporting white dust masks normally worn by workmen, were spotted kicking in shop windows and setting fire to wood and scrap paper in the street.

In Liverpool, police attended following reports of damage to shops and pubs in the Birkenhead area. Around midnight, in Toxteth, Smithdown Road was closed after about 200 rioters started hurling missiles at officers.

Firefighters were also attacked in the area, with four engines being pelted with the missiles. A police car was also targeted. No emergency workers were injured

In Nottingham, Canning Circus Police Station was fire bombed by a group of between 30 and 40 men but no injuries were reported, Nottinghamshire Police said just after 10pm.
The violence followed the arrest of 10 youths earlier in the evening after a small group of people got on to the roof of one of the buildings at Nottingham High School.

In another incident two men, aged 17 and 18, were also arrested earlier after rocks were thrown at Bulwell Police Station.

The force later said, via its official Twitter feed, that the fire had been extinguished, with the scene being preserved for forensic evidence.

It said at least eight people have been arrested in connection with the firebombing.

Gloucester saw its first night of violence when a fire was started at a derelict art college in the city.

Eight engines were in attendance at the scene, while an aerial platform ladder unit was also used to help tackle the fire.

Officers were hindered by the fact that they could not access the building due to it being derelict, but they had managed to contain the fire to a small area of the building.

Across the city, police and fire crews also had to deal with other small fires in bins, while police came under attack from youths throwing bottles.

A police statement said that support from neighbouring forces included mounted officers, while the force helicopter was in use.

Gloucestershire Police said a total of nine men were arrested following disorder in Gloucester.

They are aged 16, 17, 18, 19, 21, 24, 26, 26 and 40 and all live in the city. They remain in custody.
Deputy Chief Constable Mick Matthews said: 'What we have seen taking place in Gloucester overnight have been copycat incidents which do not appear to have been co-ordinated in anyway.

'While we had hoped this type of criminality would not take place here, we were well-prepared, as were our colleagues in partner agencies.

'Local people have, we believe, been the perpetrators, committing offences within their own communities.

'While the disorder here has not been on the same scale as elsewhere in the country, involving perhaps 60 people at most, it has undoubtedly been very disturbing and is causing concern for local people.

'I would like to reassure people that we and our partners have been working together to deal with this, and we have control of the situation.

'This type of behaviour is completely unacceptable and we are now identifying those responsible, arresting them and will be putting them through the criminal justice system.'
Meanwhile, two 18-year-olds were arrested in Folkestone, Kent, a 16-year-old was being questioned in Glasgow on suspicion of inciting violence through internet social networking sites.

In London police were on stand-by across the city with many officers in Hackney, where unrest flared up first yesterday afternoon in Mare Street.

Many shops, businesses and schools closed early and shop-keepers and landlords were seen barricading their premises in case violence struck.

In Canning Town, in east London, a tense stand-off was on-going between police and groups of youths, while in Enfield, north east London, groups of young people were reportedly patrolling the streets in a bid to deter violence, according to Sky News.

Similar scenes could be seen in Southall, west London, where Sikh worshipers were pictured protecting the Singh Sabha Sikh Temple in Havelock Road.

Several theatres cancelled performances including the Battersea Arts Centre, Greenwich Playhouse and the Arcola Theatre in Dalston.
In Tottenham police confirmed a fire had broken out on an industrial estate during the early hours of this morning.

A Scotland Yard spokesman said: 'Police were called to reports of a number of vehicles on fire on an industrial estate in Park View Road.

'London Fire Brigade are on the scene and the fire is being treated as unexplained. No arrests have yet been made.'

Police said  they had arrested a man in connection with a large fire at Reeves Furniture store in Reeves Corner, Croydon, which took place last night.

The building was razed to the ground devastating the family business built up by five generations.

A 21-year-old is being held at a south London police station and was arrested on suspicion of arson with intent to endanger life.


Officers also revealed 685 people had been arrested in connection with disorder across London in the last few days with 111 people being charged.

Managers decided to shut the Southside shopping centre in Wandsworth, south London, to avoid the risk of looting and violence.

Shops, businesses, pubs, schools and even medical centres sent staff home early in a desperate bid to avoid the dramatic scenes that have rocked the capital since Saturday evening.

Looting even forced filming on BBC1 hit Sherlock to be cut short. A second series of the show - starring Benedict Cumberbatch and Martin Freeman - is being filmed in the capital this week.

Co-creator Mark Gatiss announced that work on the show had to be curtailed with a message on Twitter.

He wrote: 'This is a new one on me. Scene incomplete owing to approaching looters. Unbelievable times.'

Both Cumberbatch and Freeman were on set in north London when work was abandoned on the production this afternoon.