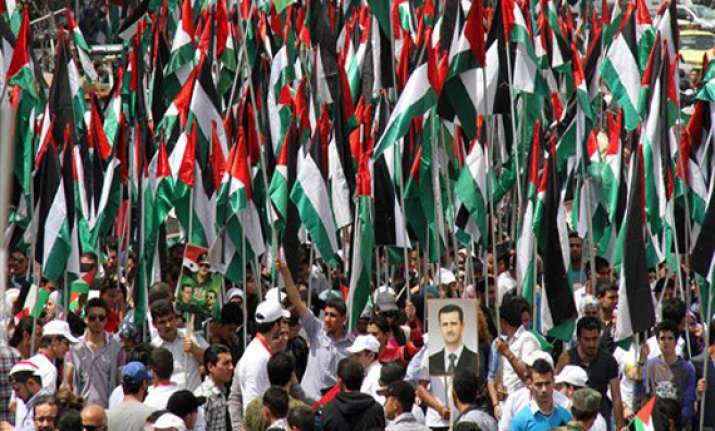 Damascus, Apr 8: Nearly 130 people were reported killed across Syria today, 86 of them civilians, as regime forces pressed a protest crackdown three days ahead of a deadline to cease fire and pull back.
Monitors reported the escalation in violence despite UN chief Ban Ki-moon's latest rebuke to Damascus for stepping up its assault on dissent hubs ahead of Tuesday's deadline.  
At least 40 civilians died "in bombardment and shooting on the town of Latamna," in Hama province, said the Britain-based Syrian Observatory for Human Rights monitoring group.  
Five civilians were killed as well in Tibet al-Imam, also in Hama, while another 18 died in the neighbouring province of Homs, where Rastan town was bombed, 22 in Idlib to the northwest, and one in Aleppo in north Syria.  
In escalating clashes, 16 rebels and 26 members of the security forces were also killed nationwide, it said, adding 13 bodies were found in Deir Balaa district of Homs and 10 extracted from rubble in Hreitan, Aleppo province.  
And Lebanese a bus carrying Shiite pilgrims was caught up in a deadly clash between rebels and troops inside the Syrian border on today, the Observatory and a Lebanese television station reported.
Al-Manar television of Lebanon's Shiite movement reported one person killed and three wounded when a rocket hit the bus carrying pilgrims from Syria to Iraq. The violence occurred near the rebel town of Qusayr.
The latest reported deaths came after President Bashar al-Assad's forces launched an overnight assault on Latamna and clashed with members of the rebel Free Syrian Army.  
UN-Arab League envoy Kofi Annan has warned of "alarming" casualties as the Syrian government's year-long crackdown on dissent—which the United Nations says has killed more than 9,000 people—showed no signs of abating.