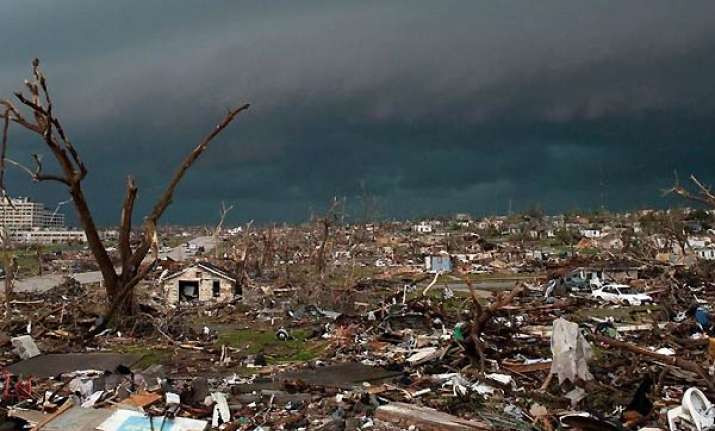 Joplin, Missouri, May 24: Thousands of people were left without homes to go tonight after the deadliest single tornado to strike the United States in over 60 years touched down on Missouri, reducing the city of Joplin to rubble, ripping buildings apart and killing at least 116 people in a 6-mile path of destruction.
Authorities said they had rescued seven people alive on Monday, but emergency warned that the death toll could climb higher as heavy winds, strong rain and hail quarter-sized hail stones hampered the search effort.

Meteorologists issued a new tornado warning for the devastated city as forecasters warned large swathes of the country to brace for more big storms on Tuesday.

No house escaped the wrath of nature in some of Minneapolis.

A tornado watch was issued on Monday for Oklahoma and parts of southern Kansas due to an 'evolving tornado threat', said Russell Schneider, director of the National Oceanic and Atmospheric Administration's Storm Prediction Center.

'We are currently forecasting a major severe weather outbreak for Tuesday over the central United States with strong tornadoes likely over Oklahoma, Kansas, extreme northern Texas, southwest Missouri,' Mr Schneider said.

The warning was extended to the area around Joplin, Missouri, and included cities such as Oklahoma City, Tulsa, Wichita, Topeka and Kansas City.

'On Wednesday, the system will shift eastward to the Mississippi River valley,' Mr Schneider said, including central Illinois and Indiana, southeast Missouri and the southeastern states of Kentucky, Tennessee, Mississippi and much of Arkansas.

Officials said the tornado that hit at around 6pm on Sunday was the single deadliest in the country since in Woodward, Oklahoma, in April 1947.

Joplin fire chief Mitch Randles estimated the damage covered a quarter or more of the city of about 50,000 people some 160 miles south of Kansas City and said his home was among those destroyed. 'It cut the city in half,' he said.

The National Weather Service said the tornado packed winds of up to 198 mph.

The weather service's director, Jack Hayes, said the storm was given a preliminary label as an EF4 - the second-highest rating given to twisters. The rating is assigned to storms based on the damage they cause.

Hayes said the storm had winds of 190 to 198 miles per hour. He said survey teams from the National Weather Service are on the scene and will make a final determination on the rating Tuesday.

Missouri Governor Jay Nixon declared a state of emergency and activated the National Guard to help out after one of the worst disasters in the state's history.


President Barack Obama called Nixon and offered his condolences to those affected, assuring the governor that the Federal Emergency Management Agency (FEMA) would provide whatever assistance was needed.

'Michelle and I send our deepest condolences to the families of all those who lost their lives in the tornadoes and severe weather that struck Joplin, Missouri, as well as communities across the Midwest today,' the President said in a statement sent from Air Force One as he flew to Europe.

'We commend the heroic efforts by those who have responded and who are working to help their friends and neighbours at this very difficult time.'




Caring for the injured was made more difficult because the main hospital, Saint John's Regional Medical Center, had to be evacuated after suffering a direct hit - the tornado ripped off its roof and smashed all its windows.

Cries could still be heard early Monday from survivors trapped in the wreckage.

City manager Mark Rohr announced the number of known dead at a pre-dawn news conference outside the wreckage of the hospital.

He said the twister cut a path nearly 6 miles long through the centre of the city. Much of the city's south side was levelled, with churches, schools, businesses and homes reduced to ruins.

Jasper County emergency management director Keith Stammer said about 2,000 buildings were damaged.

Authorities began a door-to-door search on Monday morning, with rescuers moving cautiously around downed power lines and jagged debris.

A series of gas leaks caused fires around the city overnight, and Missouri governor Jay Nixon said some were still burning.

Mr Nixon said he feared the death toll would rise but also expected survivors to be found in the rubble.

'I don't think we're done counting,' he said. 'I still believe that because of the size of the debris and the number of people involved that there are lives to be saved.'

Crews found bodies during the night in vehicles the storm had flipped over, torn apart and left looking like crushed cans.

Triage centers and shelters set up around the city quickly filled to capacity.

At Memorial Hall, a downtown entertainment venue, nurses and other emergency workers from across the region treated critically injured patients.

WHAT IS CAUSING THE DEVASTATING STORMS?




Meteorological and environmental experts are trying to offer explanations for the string of tornadoes that have been more frequent and severe than usual.

Many weather experts are blaming global warming.

Twisters generally occur when cold air hits warm air and, because it is almost summer, the air is warm over much of the U.S.

Unusually cold air is pushing down from the north, contributing to major storm activity.

When the cold air hits the warmer air, it pushes it higher into the atmosphere than is normal, which produces major storm activity.

A lot of rain has accompanied the increased storm activity, producing massive flooding.

Kevin Trenberth, a senior scientist at the National Center for Atmospheric Research, said: 'There are certainly issues related to warnings and building codes, but we cannot unduly discount climate change and high sea surface temperatures in the Gulf.'

They quickly realised they would never find the belongings they stored there, and that they had lost much of what was in their home after the tornado ripped away the roof.

Their sons, aged 20 and 17, went outside after the storm and saw that every home was destroyed.

'My sons had deceased children in their arms when they came back,' Mrs Fritz said. 'My husband and I went out and saw two or three dead bodies on the ground.'

Mrs Fritz said she was surprised she survived. 'You could just feel the air pull up and it was so painful. I didn't think we were going to make it, it happened so fast.'

Tornado sirens gave residents about a 20-minute warning before the tornado touched down on the city's west side.

Staff at St John's Regional Medical Center rushed patients into hallways before the storm struck the nine-storey building, blowing out hundreds of windows and leaving the facility unusable.

The hospital was among the worst-hit locations.

Early on Monday, floodlights lit what remained of the building that once held as many 367 patients. Police officers could be seen combing the surrounding area for bodies.

In the parking lot, a helicopter lay crushed on its side, its rotors torn apart and windows smashed.

Nearby, a pile of cars lay crumpled into a single mass of twisted metal.

Winds from the storm carried debris up to 60 miles away, with medical records, X-rays, insulation and other items falling to the ground in Greene County, said Larry Woods, assistant director of the Springfield-Greene County Office of Emergency Management.

Matt Sheffer dodged downed power lines, trees and closed streets to make it to his dental office across from the hospital. Rubble littered a flattened lot where a pharmacy, gas station and some doctors' offices once stood.

'My office is totally gone. Probably for two to three blocks, it's just levelled,' Mr Sheffer said.




'The building that my office was in was not flimsy. It was 30 years old and two layers of brick. It was very sturdy and well built.'

As rescue workers continued their search for survivors, friends and family of loved ones posted moving appeals online for help finding those missing.

Groups of residents set up Facebook groups and blogs to post photos of people whose whereabouts is unknown.

Heather Hill Stoneburner posted: 'Please look for Ruth Lawrence...96 years old & lived alone...close to St. John's at 3142 Tyler.

'I have seen pictures on the news. It is hard to watch. Thank you for any information. Please be safe.'

Savannah Richardson wrote: 'i was wanting to know if you found or if my dad is okay cause I've called him 50 times and no answer I was wanting to know if you could keep eye out for him cause I'm scared he could have been in Joplin at the time of the storm.'

Pam Fricker posted a photo (right) and wrote: 'My aunt, Janice Knight, lives at 1829 S. Moffett. She's about 5 feet tall, blonde, age 74.

'The girl in the red shirt is Lynsey Knight, and works in ER at Freeman's... If anyone has seen them, please let them know that Uncle George was found stranded at 20th and Maiden Lane but has been helped.

'I live in Oklahoma City, and have not been able to reach anyone.'

On a blog for relatives of those missing, one man wrote: 'my brother is missing please help - michael dodd 1516 east 18th street joplin mo i cannot contact my brother in any way if anyone finds any information please let me know i am so worried i am praying for all of our families and friends back there.'

The Joplin twister was one of 68 reported tornadoes across seven Midwest states over the weekend, stretched from Oklahoma to Wisconsin, according to the National Weather Service's Storm Prediction Center.

One person was killed in Minneapolis. But the devastation in Missouri was the worst, eerily reminiscent of the tornadoes that killed more than 300 people across the South last month.

Residents said the damage was breathtaking in scope.

'You see pictures of World War II, the devastation and all that with the bombing. That's really what it looked like,' said Kerry Sachetta, the principal of a flattened Joplin High School.

'I couldn't even make out the side of the building. It was total devastation in my view. I just couldn't believe what I saw.'

Emergency management officials rushed heavy equipment to Joplin to help lift debris and clear the way for search and recovery operations.

Governor Nixon declared a state of emergency, and President Barack Obama said the Federal Emergency Management Agency was working with state and local agencies.

Jeff Lehr, a reporter for the Joplin Globe, said he was upstairs in his home when the storm hit but was able to make his way to a basement closet.

The storm tore the roof off his house, but he was safe. When he emerged, he found people wandering through the streets, covered in mud.

'I'm talking to them, asking if they knew where their family is,' Mr Lehr said. 'Some of them didn't know and weren't sure where they were. All the street markers were gone.'

Justin Gibson, 30, huddled with three relatives outside the tangled debris of a Home Depot. He pointed to a black pickup that had been tossed into the store's ruins and said it belonged to his roommate's brother, who was last seen in the store with his two young daughters.

Mr Gibson, who has three children of his own, said his home was levelled and 'everything in that neighbourhood is gone. The high school, the churches, the grocery store. I can't get hold of my ex-wife to see how my kids are.

'I don't know the extent of this yet,' he said, 'but I know I'll have friends and family dead.'

In Minneapolis, where a tornado killed one person and injured 29, authorities imposed an overnight curfew in a 4-square-mile area, including some of the city's poorest neighbourhoods, to prevent looting and keep streets clear for emergency crews.

Mayor RT Rybak said one liquor store was looted right after the tornado hit late Sunday and a few burglaries took place overnight.

He said it wasn't immediately clear how many homes were affected, simply saying: 'It's a lot.'

Though the damage covered several blocks, it appeared few houses were totally demolished. Much of the damage was to roofs, front porches that had been sheared away and fences.

The tornado left part of a garage door in a tree and many large trees were left leaning against houses.

Pat Trafton said her family escaped unharmed after a tree was left leaning against her house.

Mrs Trafton, 67, said: 'It's been a crazy day.

'They say it was a monster tornado. It all just happened so fast.'

It was the first tornado to hit the city since August 2009. 'There was no doubt right away,' the meteorologist said.

North Minneapolis resident Tiffany Pabich was taking a nap just as the tornado blew through.

She said: 'It went right between our houses. A tree landed on top of my car. We smelled gas right away.'

It is the latest in a string of natural disasters to strike the U.S. - which began with blizzards shutting down the North-East over New Year, and wildfires devastating the South.

A deadly system of twisters in April and the continuing flooding crisisof the Mississippi River will push the cost of recovery and compensation over $5 billion.

Added to this are the predictions of a bumper hurricane season this year in the South-East, and the prospect of nine Western states - from Washington to New Mexico - suffering flooding as snowpacks up to 60ft deep in placesmelt and swell waterways in the warmer weather.

The weekend's Midwest storms uprooted as many as 50 natural gas service lines in Minneapolis and suburban St. Louis Park, and CentrePoint Energy warned residents to be careful of gas leaks.

Xcel Energy reported more than 20,000 of its customers lost electricity in the metro area.

The Minneapolis Police Department asked people who didn't live in the area to stay away.

A shelter for those displaced by the storm was set up Sunday afternoon at a nearby armoury.

In the north-east Kansas, powerful storms spawned funnel clouds and hail that ripped limbs off of trees and shattered windows.

About 200 homes were damaged in and around Reading with the tornado sweeping through the small town around 9:15pm Saturday night, said Kansas Division of Emergency Management spokeswoman Sharon Watson.

A man was pronounced dead shortly after being taken to Newman Regional Hospital in Emporia, about 20 miles from where the tornado hit, hospital supervisor Deb Gould said.

Ms Gould said two other people were brought in with injuries but she had no further details.

Five people were injured in all, along with the person killed, said Ms Watson.

Reading, a town of about 250 people is 50 miles south of the Kansas capital city, Topeka. 

Severe thunderstorms pelted the region with hail that some Topeka residents claimed was the size of baseballs, authorities said this morning.

The storms hit the area from 6pm until midnight with the first significant calls of damage coming in about 6.30pm local time in Shawnee County, Ms Watson told CNN.

'There was significant damage caused by large hail, which broke windows and broke tree limbs,' she said.

The local post office and volunteer fire department were damaged, and all roads in and out of the town have been closed off.

'I'm hoping it's over for us,' said Ms Gould, noting that local authorities were still at the scene in Reading this morning.

Reverend Lyle Williams, who is a pastor for about 10 worshippers at the Reading First Baptist Church, said the church suffered extensive damage: 'Yeah, it's pretty bad,' he said. 'My daughter was out there and told me about it.'

'I'm not going to be able to have church today that's for sure,' he added, saying he's been a pastor at the church for 21 years.

In Jefferson County, a mobile home was destroyed with an elderly couple was trapped inside, Ms Watson told CNN. She said responders cleared the debris and rescued the couple unhurt.

Power had been restored in the town by early Sunday and a shelter was being set up at a local school.

The National Weather Service confirmed that a tornado also touched down in Topeka and northeast of the city near Lake Perry, where damage was reported at a nearby campsite, Ms Watson said.

While many states have been struck by severe storms this spring, Kansas has been having one of its lightest tornado seasons in decades, according to the National Weather Service.

Until Saturday, no tornadoes had been reported in May, a month that averages nearly 30. Last May, 127 tornadoes tore through the state.

Governor Sam Brownback declared an emergency for 16 counties, including the one surrounding Reading, Ms Watson said.

The declaration allows state resources to be used in recovery and cleanup and paves the way for federal assistance if needed.