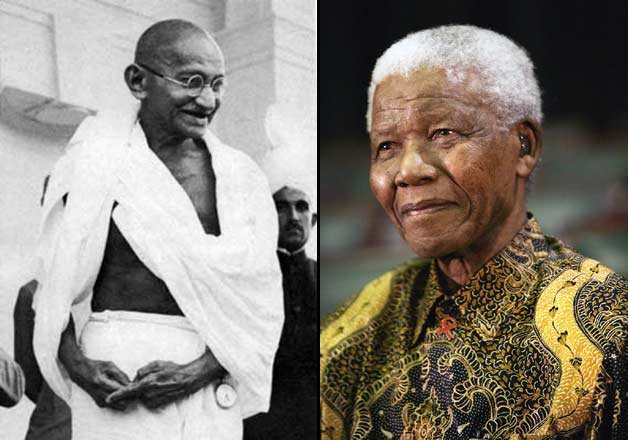 New Delhi: A survey by the World Economic Forum (WEF) has found former South African President Nelson Mandela as the most admired personality of the world. He is closely followed by Pope Francis.
Interestingly, the list has six business men whose innovation changed the world for better.  
Two Indians appear among the top 10 most admired people of the world. Mahatma Gandhi has been ranked fourth while Prime Minister Narendra Modi has acquired 10th spot on the list. Both of them happen to be from Gujarat.
The survey has collected responses from 125 countries worldwide and 285 cities.
These are top 11 present and past leaders that are most admired around the world:
1. Nelson Mandela: The leader of anti-apartheid movement in South Africa, Nelson Mandela spent 27 years in prison before his release in February 1990. He became South Africa's first black president in 1994 and led the country successfully until 1999. He received 20.15% of total votes in the survey.
2. Pope Francis: Born as Jorge Mario Bergogli, Pope Francis is the first Latin American and non-European Pope in more than 1,200 years history of Roman Catholic Church. The spiritual leader of 1.2 billion Catholics, Pope Francis is known for his progressive stances and down-to-earth style. He is often referred by many as 'Rockstar Pope' for his cool and progressive speeches. He garnered 16.5% of total votes in the WEF survey.  
3. Elon Musk: 44 years old Elon Musk is the CEO of Tesla Motors and SpaceX who also co-founded PayPal. He migrated to US from South Africa at the age of 17. He gained 13.2% votes in the survey.
4. Mahatma Gandhi: Regarded as 'Father of the Nation' in India, Mahatma Gandhi, is known worldwide for his non-violent movement against the British rule in India. Referred as Bapu, he led the country to freedom in 1947 without even firing a single bullet. He polled 12.4% of votes in his favour.
5. Bill Gates: Founder and chairman of Microsoft Corporation, Bill Gates is now more involved in philanthropy than business. Through his Bill & Melinda Gates Foundation, he has given away more than $28 billion of his wealth for charity, most of which spent to improve global health. He was once ranked as the riches person on earth. 8.4% of the responders favored him as the most admirable person.
6. Barack Obama: Obama is the 44th President of the United States and the first African American to reach to the highest post. He was awarded Nobel Peace Prize in 2009 for his "extraordinary efforts to strengthen international diplomacy and cooperation between people." He is most followed personality on micro-blogging website Twitter.
7. Richard Barson: Barson is an English businessman, entrepreneur and founder of multinational Virgin Group. He is considered as a very inspirational leader. The group has over 200 companies in over 30 countries. 7.1% of the respondents voted Barson as their favourite personality.
8. Steve Jobs: The founder of tech giant Apple, Steve Jobs is considered as one of the most influential CEO of his generation. A person with humble beginnings, Steve Jobs rose to prominence with his hunger for innovation and perfection, qualities that reflect through highly cited Apple products. 5.6% of the responders in survey chose Jobs as their favourite.
9. Mohammad Yunus: A Bangladeshi, Mohammad Yunus was awarded the Nobel Peace Prize in 2006 for founding the Grameen Bank and pioneering the concepts of microcredit and microfinance. He is credited for the work to "create economic and social development from below". Yunus was voted by 3.05 of the responders as their favourite.  
10. Narendra Modi: The 15th and current PM of India Narendra Modi comes from humble background. He is known for winning the 2014 general elections riding on his popularity and taking his Bhartiya Janata Party to win majority seats on its own, a feat achieved by any political party after three decades. During the survey, 3.0% of the total responders chose him as their favourite.
11. Warren Buffett: American business magnate Wareen Buffet was once the richest person in the world. He is one of the most successful investors in the 20th century and holds shares in a few of the major international brands. He has pledged to give away 99 percent of his fortune for charity and has already given 83% of his wealth to Bill and Melinda Gates Foundation. He received 2.5% of total votes in the survey.