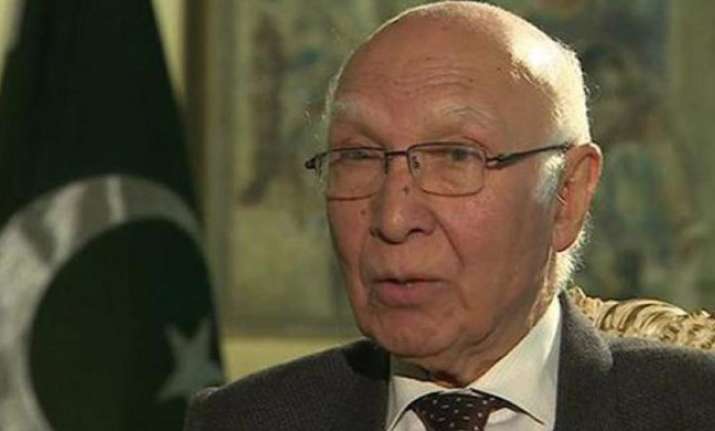 Adviser to Pakistan Prime Minister on foreign affairs Sartaz Aziz has said that United States (US) president-elect Donald Trump would deserve nobel prize if he intervenes and succeeds in resolving the Kashmir dispute..
"Trump would deserve Nobel prize if he helps resolve Kashmir dispute," he said on a lighter note while responding to a question regarding Trump's offer to mediate between Pakistan and India, the Dawn reported.
Aziz indicated that Pakistan will welcome any such intervention by the US president-elect Donald Trump, the report said.
Earlier, the US president-elect had shown interest to mediate between Pakistan and India.
"Well, I would love to see Pakistan and India get along, because that's a very, very hot tinderbox. That would be a very great thing. I hope they can do it," Trump said in an interview to Hindustan Times in October.
"If it was necessary I would do that. If we could get India and Pakistan getting along, I would be honoured to do that. That would be a tremendous achievement... I think if they wanted me to, I would love to be the mediator or arbitrator," he added.
Sartaj Aziz, while talking to media in Islamabad, also revealed that Pakistan will participate in the Heart of Asia Conference scheduled to be held in India on December 3, 2016.
"Unlike India, that had sabotaged Saarc summit in Pakistan by pulling out, Pakistan will respond by participating in the Heart of Asia being held in Amritsar, India, on December 3," confirmed Aziz.
The adviser said he himself will participate in the conference and will not repeat India's blunder where it boycotted Saarc summit in November.
"Despite the fact that Indian forces killed our seven soldiers along Line of Control on Monday, Pakistan will not boycott the conference," Aziz maintained.