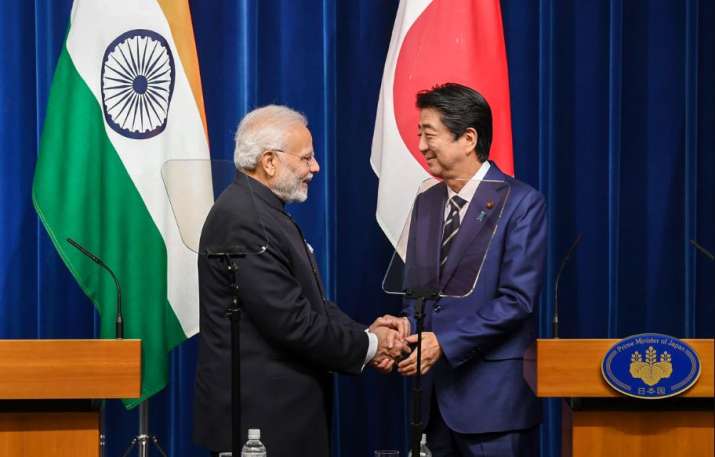 Strongly condemning the growing threat of terrorism and its universal reach, Prime Minister Narendra Modi and his Japanese counterpart Shinzo Abe on Monday asked Pakistan to bring to justice the perpetrators of the Mumbai and Pathankot terror attacks. 
According to the India-Japan Vision Statement issued after the summit talks between the two leaders, PM Modi and Abe called upon Pakistan to bring to justice the perpetrators of terrorist attacks, including those of November 2008 in Mumbai and January 2016 in Pathankot.
In November 2008, 10 terrorists of Lashkar-e-Taiba (LeT) had sailed into Mumbai from Karachi and carried out coordinated attacks, killing 166 people and injuring over 300. 
India has expressed concern to Pakistan over allowing Mumbai attack mastermind and Jammat-ud-Dawah chief Hafiz Saeed to roam freely in the country and has demanded bringing him to justice.
India blames the Pakistan Army for supporting the "non-state actors", who had carried out the January 2-4 terror attack on the Indian Air Force (IAF) base at Pathankot in Punjab.
Six terrorists of Jaish-e-Mohammed (JeM) crossed over from Pakistan to India and carried out the attack, killing seven security personnel and a civilian before being gunned down.
"They looked forward to strengthening cooperation against terrorist threats from groups including Al-Qaida, ISIS, Jaish-e-Mohammad, Lakshar-e-Tayyiba, and their affiliates," the statement said.
The two leaders called on all countries to work towards rooting out terrorist safe havens and infrastructure, disrupting terrorist networks and financing channels and halting cross-border movement of terrorists.
They underlined the need for all countries to ensure that their territory is not used to launch terrorist attacks on other countries in any manner, the statement said.
"They emphasised the need for stronger international partnership in countering terrorism and violent extremism, including through increased sharing of information and intelligence," it said.
Modi and Abe reaffirmed their shared commitment to the total elimination of nuclear weapons and remained resolute in the task of strengthening international cooperation to address the challenges of nuclear proliferation and nuclear terrorism, it said.
(With PTI inputs)