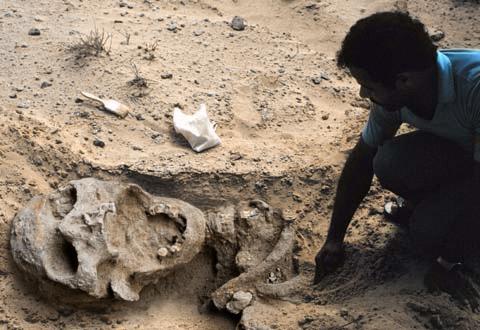 Saudi archaeologists have claimed to discover the 'world's oldest human bone' in Tabuk region in northwestern part of the country.
The bone is a part of the middle finger of a human being believed to have lived 90,000 years ago, rendering it the oldest human trace found in the Arabian Peninsula.
The bone was discovered during excavations at Tayma, where a large oasis exists with a long history of habitation, the Saudi Commission for Tourism and National Heritage said.
The discovery was made by a joint research team of Saudi archaeologists and experts from Oxford University.
Researchers say that they began digging in 2012 and it took nearly four years to find the oldest bone.
The discovery was made under the project named Green Arabia.
"The Green Arabia project has studied sites at ancient lakes in the Nafud desert," Ali Ghabban, head of the Saudi Commission for Tourism and Antiquities, said.
Researchers are also studying historical sites and other environmental condition under the same project which is set to conclude next year.
(With inputs from IANS)