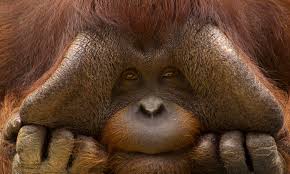 Boston: Buoyed by the success of its interactive enrichment programme – the world's first - Australian researchers are now working on developing more video games for orangutans in the Melbourne Zoo.
Researchers at the University of Melbourne's Microsoft Research Centre worked with Zoos Victoria to develop interactive games for the orangutans, a unique native Asian species, that are tailored to the highly intelligent animals.
Researcher Marcus Carter said they found the programme resulting in a positive impact on the orangutans and their interactions with zoo visitors.
"We're planning on running a longer study for a few months next year to explore more ideas and better understand how they take to the games over a longer period of time," Carter told the Australian Broadcasting Corporation (ABC) on Tuesday.
The researchers developed games based on the orangutans' responses, using Kinect 3D technology from Microsoft's Xbox One gaming system. 
The team initially designed a game using "intelligent projections," which turned the floor of their enclosure into a touch screen. The game projected images onto the floor. The orangutans' movements surprised researchers after they played the first game.
The orangutans interacted not just with the projection on the floor, but with how the light projected onto their bodies. "We tried to not make assumptions about the ways they might want to use technology. We're really trying to learn from what they do," Carter said. 
The results from the trial led the researchers to develop a video game which would allow the orangutans to play the game from inside their enclosure, while also allowing for a person to play on the outside of it.
Researchers believe this interaction will allow humans and orangutans to safely share moments together and develop a stronger bond, which in turn could help change the perception of the animals. The Melbourne researchers are currently developing a new audio game for the orangutans, which will play music when the animals move coloured objects.
(With agency inputs)