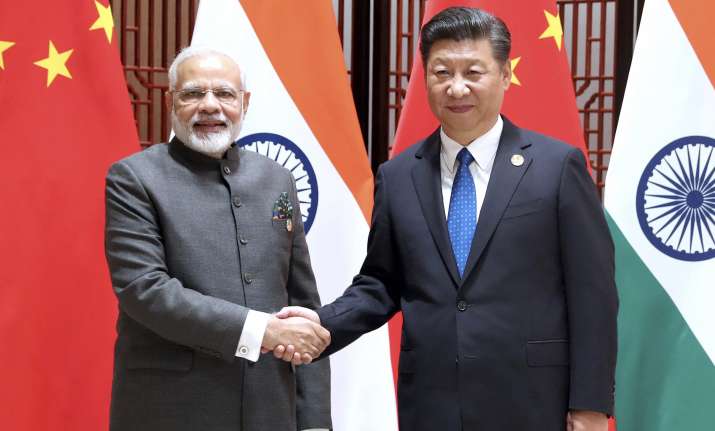 Reacting to Army chief Bipin Rawat's remarks that China was testing India's limits by taking over territory in a gradual manner which he described as "salami slicing", Beijing today said that the General Rawat's statement was contrary to the views expressed by Prime Minister Narendra Modi and President Xi Jinping during their meeting in Xiamen two days ago. 
Rawat, while speaking at a seminar organised by the Centre for Land Warfare Studies in New Delhi on Wednesday, had said that India should be prepared for a two-front war as China had started "flexing its muscles", while there seems to be no scope for reconciliation with Pakistan whose military and polity saw an adversary in India. 
"As far as northern adversary is concerned, the flexing of muscle has started. The salami slicing, taking over territory in a very gradual manner, testing our limits of threshold is something we have to be wary about and remain prepared for situations emerging which could gradually emerge into conflict," he said. 
Reacting to Rawat's comments, Chinese Foreign Ministry spokesman Geng Shuang today said, "We have noted the statement by relevant people in India, also we noticed some Indian press remarked that the reports are shocking." 
Geng also questioned whether Rawat was authorised to speak and if his comments represented the Indian government's position. He referred to to the remarks by Xi and Modi during their first meeting following the end of a 73-day standoff between the militaries of the two countries at Doklam.
Also Read: China, India should make sure bilateral relations stay on track: Foreign Minister Wang Yi
"As reported by Indian press...we don't know whether he was authorised to speak those words or it was just his spontaneous words or whether his words represented the position of the Indian government," the spokesman said. 
Noting that China and India are important neighbours and are two large countries, Geng said sound and steady development of ties serves the fundamental interests of both the countries. 
This is what the international community wishes to see, he said. "Just two days ago, President Xi Jinping pointed to Prime Minister Narendra Modi that the two countries are each other's development opportunities, not threats." 
"We hope India could view China's development in a correct and rational way. We need to show to the world that peaceful coexistence and win-win cooperation is the only right choice for the two countries," Geng quoted Xi as telling Modi during their meeting on the sidelines of the BRICS Summit. 
"We should respect each other, seek common ground and shelve differences, preserve peace and tranquillity of the border area," Xi had said. 
Prime Minister Modi had also said that the Indian side is willing to work with China to maintain steady development of bilateral ties, Geng said. 
"We should not treat each other as rivals. We should make cooperation the mainstream and the two sides should work together to maintain peace and tranquillity in the border areas," Geng said. 
"Hope that this military official would see clearly this trend and contribute to development of China and India relations and see something more in that regard," he said in response to Rawat's remarks. 
Rawat had said that India cannot afford to let its guard down against China as he asserted that there is a possibility that conflicts on the borders could be limited in space and time or can expand into an all out war along the entire frontier, with Pakistan taking advantage of the situation. 
"We have to be prepared. In our context, therefore, warfare lies within the realm of reality," he said, adding the Army's supremacy among the three services must be maintained to successfully combat external security threats. 
Meanwhile, Chinese Foreign Minister Wang Yi today said India and China should "make sure that differences do not go out of control."
Also Read: PM Modi, Xi agree not to allow repeat of Doklam-like incident in 'forward-looking, constructive' meeting at BRICS
"There should be no confrontation. We need to build strategic mutual trust and the two sides need to work to really look at each other as cooperative partners rather than be driven by an old-fashioned mindset and regard each other as rivals or threats," he said. 
"Both sides need to remain committed to the five principles of peaceful coexistence and work together to properly handle disputes and also work together to maintain tranquillity in the border areas," he said.
India and China had been locked in a 73-day standoff from June to August this year. The standoff between the two armies began when Indian troops stopped Chinese troops from building a road in Doklam, citing the disputed status of the territory. China said the construction of the road was just since Doklam had been Chinese territory since ancient times. New Delhi backed Bhutan's claims and saw a Chinese road in Doklam as a threat because the region is very close to the Siliguri Corridor, which connects India's northeast with the rest of the country.
The standoff ended late last month after the two armies backed as part of the disengagement, just a week before PM Modi's scheduled visit to Xiamen for BRICS Summit.  Chinese troops left Doklam along with bulldozers and removed the tents which they had pitched. China had, however, said it would strengthen patrolling and would also "adjust" deployments in the plateau.  
(With PTI inputs)