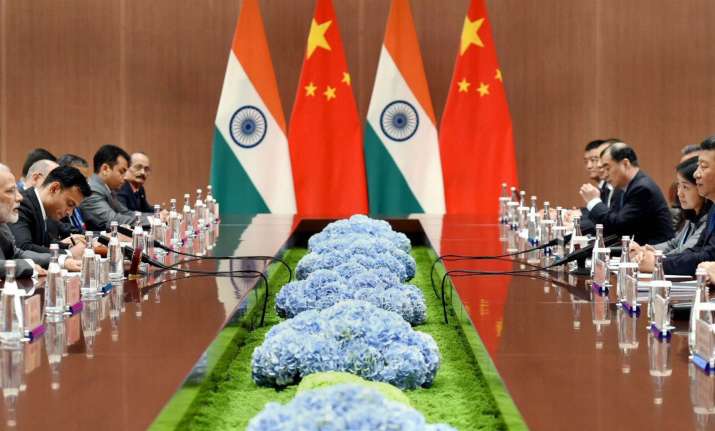 Prime Minister Narendra Modi and Chinese President Xi Jinping today held their first substantive bilateral meeting after the Doklam standoff and reaffirmed that maintaining peace and tranquility in the border areas was a pre-requisite for ties to move forward. The much-anticipated meeting saw both sides strike a conciliatory note in discussions that Foreign Secretary S Jaishanker later termed as 'forward-looking and constructive'.
Modi, who attended the BRICS Emerging Markets and Developing Countries Dialogue earlier in the day, met Xi on the sidelines of the 9th BRICS Summit in Xiamen.
"There was a forward-looking and constructive approach taken by both sides during the over an hour-long meeting between the two leaders," Foreign Secretary S Jaishankar said while briefing reporters on the Modi-Xi bilateral meet.
Prime Minister Modi and President Xi felt that there should be closer communication between the defence and security personnel of India and China, Jaishankar said, adding that the two leaders reaffirmed that it was in the interest of both countries to have good relations, he said.
During the meeting, both Modi and Xi reaffirmed the understanding reached earlier this year at Astana between them to not allow differences to become disputes. "They felt that peace and tranquility in the border areas is a pre-requisite for ties to move forward," Jaishankar said.
In his initial remarks during the meeting, Modi congratulated Xi on a "very successful" BRICS Summit, saying the conference had been a success in making the grouping more relevant in a fast-changing world. "Met President Xi Jinping. We held fruitful talks on bilateral relations between India and China," PM Modi tweeted before departing from Xiamen for his first bilateral visit to Myanmar.
President Xi, on the other hand, asserted that peaceful coexistence, win-win cooperation "only correct choice" for China, India, reported Xinhua, adding that both countries should jointly safeguard peace, tranquility in border areas.
"China is willing to work with India on the basis of the Five Principles of Peaceful Coexistence, which were put forward by both countries, to improve political mutual trust, promote mutually beneficial cooperation, and push Sino-Indian ties along a right track," Xi said at the meeting.
"Healthy and stable relations between China and India are in line with the fundamental interests of their people," he said.
The meeting came amid diplomatic efforts by the two sides to overcome the bitterness caused by the 73-day face-off between their troops in the Dokalam area of the Sikkim sector.
The Chinese and the Indian troops were engaged in a standoff since June 16 after the Indian side stopped the construction of a road by the Chinese Army.
On August 28, India's External Affairs Ministry announced that New Delhi and Beijing have decided on "expeditious disengagement" of their border troops in the disputed Dokalam area
'Doklam-like incident must not recur'
Prime Minister Modi and Chinese President Xi Jinping agreed during the meeting that Doklam-like incidents should not recur. Asked if the Dokalam standoff had been left behind by the two sides, Foreign Secretary Jaishanker said, "It was a forward-looking conversation and not a backward-looking one."
Jaishanker said both leaders agreed that "more efforts should be made to really enhance and strengthen the mutual level of trust between the two sides.
"It is natural that between large powers there would be areas of difference and it should be handled with mutual respect.
"Efforts should be made to find common ground in those areas... The defence and security personnel must maintain strong contact and cooperation and ensure that the sort of situation which happened recently should not recur," Jaishankar said.
No discussion on terror
In perhaps the most significant takeaway for India from the Summit, the BRICS declaration on Monday made specific references to two Pakistan-based terror outfits – Jaish-e-Mohammed and Lashkar-e-Taiba. Prior to his meeting with President Xi, Modi made a strong pitch for BRICS nations to collaborate on the issue of counter terrorism.
"We need coordinated action and cooperation in areas such as counter terrorism, cyber security and disaster management," PM Modi said while addressing the 'Dialogue of Emerging Market & Developing Countries'.
​However, during his meeting with the Chinese President, the Prime Minister did not take up the issue of terrorism or Pakistan.
hen asked if the issue of terror featured in talks between the two leaders, Foreign Secretary Jaishanker said, "Counter terrorism issues were taken up during the course of BRICS, they were not discussed in this meeting." 
Constructive approach
Going into the Summit, India had indicated that its approach would be that of 'confidence-building' and mending ties following the dent in Indo-Chinese relations following the Doklam standoff. China responded in kind when it agreed to include references to names of terror groups based in Pakistan, its 'all-weather ally'. 
Moreover, both sides are also learnt to have agreed to discuss all outstanding issues, with Prime Minister Modi telling the Chinese President that India will come to the dialogue table with a positive outlook towards China.
The statements by both sides signal an intent to put relations on an upward trajectory. The fact that both countries stressed on the need for maintaining peace and tranquility by both sides on the border indicates that the war rhetoric has been put on the back-burner, at least for now.
Perhaps the biggest takeaway, as the Foreign Secretary pointed out, was the agreement between both leaders not to allow differences between both countries to escalate into a dispute. "The discussion was constructive. There was a reminder that we had agreed at Astana that we will not let differences become disputes, that was reaffirmed."
(With agencies)