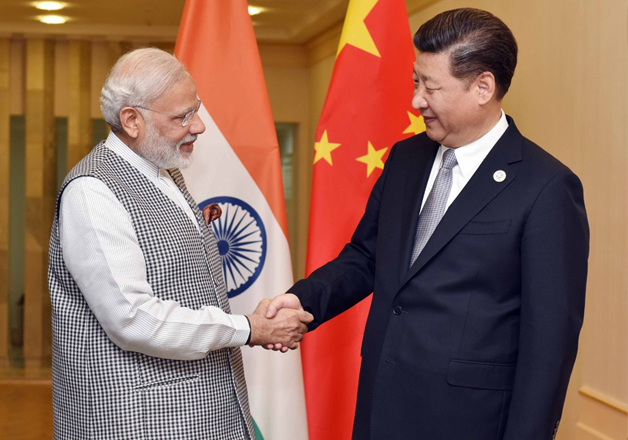 Tashkent: Prime Minister Narendra Modi today met Chinese President Xi Jinping in Uzbekistan's capital Tashkent ahead of the Shanghai Cooperation Organisation (SCO) summit on Thursday and Friday.
The meeting between India and China is crucial in view of New Delhi garnering China's support for its membership to the Nuclear Suppliers Group (NSG). Sources said that the decision will be taken here (Tashkent) and the team in Seoul will be informed.
Seeking China's support for India's membership of NSG, the Indian Prime Minister Narendra Modi urged Chinese President to make a "fair and objective" assessment of India's application which is before the plenary of the 48-nation grouping that is currently meeting in Seoul.
Meeting on the sidelines of the Shanghai Cooperation Organisation (SCO) Summit, Modi said India's case should be judged on its own merits and China should contribute to an emerging consensus in the Seoul meeting, according to External Affairs Ministry Spokesperson Vikas Swarup.
First bilateral meeting of the day. PM @narendramodi holds talks with President Xi of China pic.twitter.com/2SOCEtGLBX

— Anurag Srivastava (@MEAIndia) June 23, 2016
The meeting, which lasted for nearly 50-minutes, comes in the backdrop of stiff Chinese opposition to India's entry into the Nuclear Suppliers Group (NSG), which looks after critical issues relating to nuclear sector, including trade and export of nuclear technology.
However, when asked about China's response, Swarup refused to comment, saying, "You know, it is a complex and delicate process. We are waiting (to see) what kind of news comes from Seoul. I will not make any more comment on this."
Swarup also stated that most of the time of the Modi-Xi meeting was devoted to the NSG issue.
Asked if India talked about the need to delink India and Pakistan's NSG membership bids, he said, "...You have heard what Prime Minister told Xi Jingping that China must make a fair and objective assessment of India's application on its own merits and China should join the emerging consensus in Seoul."
While making some right noises of playing "constructive" role on the issue of memberships of India and Pakistan, China has been unrelenting in its opposition, harping on the need to have a criteria for non-NPT countries like India and clubbing India's case with that of Pakistan for which it is batting.
Earlier, Pakistan President Mamnoon Hussain met Xi on the sidelines of the summit and thanked China for supporting Pakistan's case for NSG membership. Hussain told Xi that any "exception" in granting membership to the NSG will "disturb" strategic stability in South Asia.
"President Xi welcomed India's accession to the SCO and said it would strengthen it. Prime Minister Modi thanked President Xi for China's support to India's membership of the Shanghai Cooperation Organisation," Swarup said.
Prior to his departure from New Delhi to Tashkent, Modi said India looks forward to fruitful outcome from its engagement at the SCO summit.
India's entry into SCO as a full member will provide it an opportunity to have extended cooperation with member countries in areas of defence, security and counter-terrorism.
The SCO had set the ball rolling to make India a member of the bloc during its summit in Ufa in July last year when administrative hurdles were cleared to grant membership to India, Pakistan and Iran.
SCO was founded at a summit in Shanghai in 2001 by the Presidents of Russia, China, Kyrgyz Republic, Kazakhstan, Tajikistan and Uzbekistan. India, Iran and Pakistan were admitted as observers at the 2005 Astana Summit.