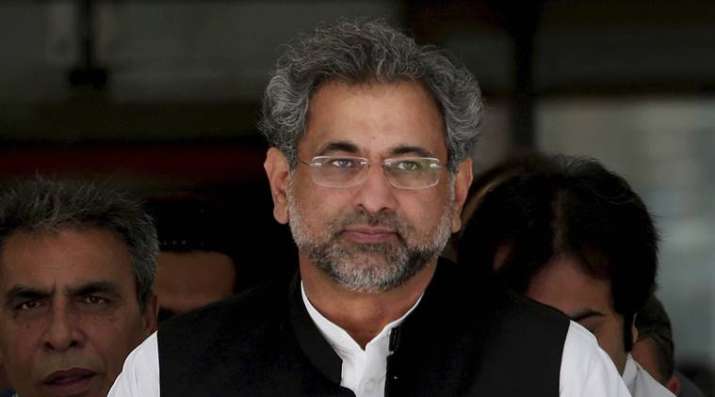 A day after former Pakistan PM Shahid Khaqan Abbasi was allowed to run for a seat from capital Islamabad, his nomination from Rawalpindi for July 25 general elections was rejected by the election tribunal on Wednesday.
Abbasi had filed nominations for two seats- NA-53 Islamabad and NA-57 Rawalpindi. Initially, the election officials had rejected his nomination from Islamabad but accepted his bid from Rawalpindi. 
The former Pakistan PM  had challenged his rejection from the capital in a special election tribunal of the Islamabad High Court, where his plea was accepted by judge Mohsin Akhtar Kayani on Tuesday. 
His rival candidate from NA-57 (Murree in Rawalpindi), Masood Abbasi had challenged his candidature in another tribunal led by judge Ibadur Rehman Lodhi. 
Masood had accused the former premier of tampering with the nomination papers and illegally occupying forest land in his native Murree city near Islamabad, among others. 
Justice Lodhi upheld some of the objections against the former prime minister while his lawyer argued that Abbasi's nomination papers were same as the one filed for the NA-53 constituency in Islamabad, which had been already accepted, according to court officials. 
Abbasi, who was appointed as premier after Nawaz Sharif was disqualified by the Supreme Court in July last year, can now appeal in a three-member bench of the Lahore High Court against the tribunal's decision. 
Meanwhile, Justice Kayani today accepted the nomination papers of Pakistan-Tehreek-i-Insaaf chief Imran Khan from NA-53 (Islamabad) constituency, against former premier Abbasi. 
Khan's nomination papers were rejected by the Returning Officer, following which he had filed an appeal in the election tribunal. 
Also, Khan's candidacy from NA-35 (Bannu) was also approved today after his nomination papers were challenged in the Peshawar appellate tribunal. 
Khan has filed five nominations—from NA-53 (Islamabad), NA-35 (Bannu), NA-95 (Mianwali), NA-131 (Lahore) and NA-243 (Karachi) constituencies.
(With PTI inputs)