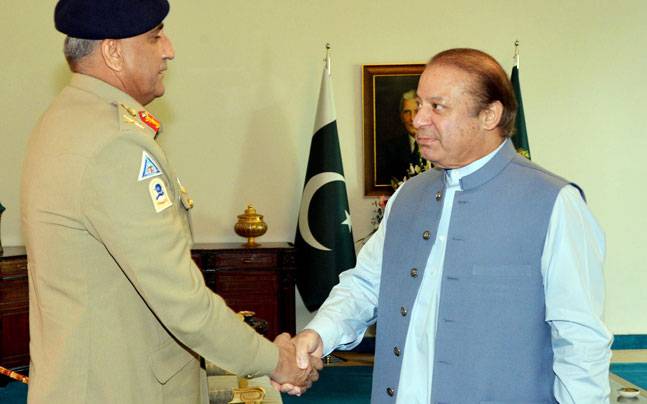 In an interesting development, Pakistan Army on Wednesday backed off from its stand after publicly questioning Prime Minister Nawaz Sharif's decision to sack an adviser over the 'Dawn leak'. 
The 'Dawn leak' relates to an explosive newspaper article in the newspaper alleging a rift between the country's civilian government and the military.
Government-military relations are a sensitive topic in Pakistan, which has had a history of military coups since gaining independence from Britain in 1947.
Two weeks ago, Prime Minister Nawaz Sharif fired a senior adviser over a front-page article last year in the Dawn newspaper alleging the rift.
Maj. Gen. Asif Ghafoor, a military spokesman, subsequently questioned the firing in a tweet, saying it was not in line with the findings of an inquiry that was set up to determine who leaked information to journalist Cyril Almeida about a top-level security meeting.
Almeida, in a front page article in Dawn, had reported that the government asked the military's Inter-Service Intelligence spy agency to act against militants or face international isolation.
The military on Wednesday released a statement saying Ghafoor's tweet had been withdrawn and that the issue had been settled. It also said the tweet was not "aimed at any government office or person," and reaffirmed the army's commitment to uphold the constitution and support the democratic process.
Army chief Gen. Qamar Javed Bajwa met with the prime minister in Islamabad earlier in the day, apparently in an effort to defuse tensions.
Ghafoor told reporters his tweet had been misinterpreted to give an impression the army and the government were not on the same page. He also said the issue of the media leak to Dawn had been "resolved" and that the Ministry of Interior had fully "implemented recommendations" of the inquiry board in the leak to Almeida. He did not elaborate.
The ministry said it had referred the matter of Almedida and Dawn to All Pakistan News Papers Society, an organization of newspaper owners, for "disciplinary action."
Editors at Dawn and Almeida were not available for comment.
(With AP inputs)