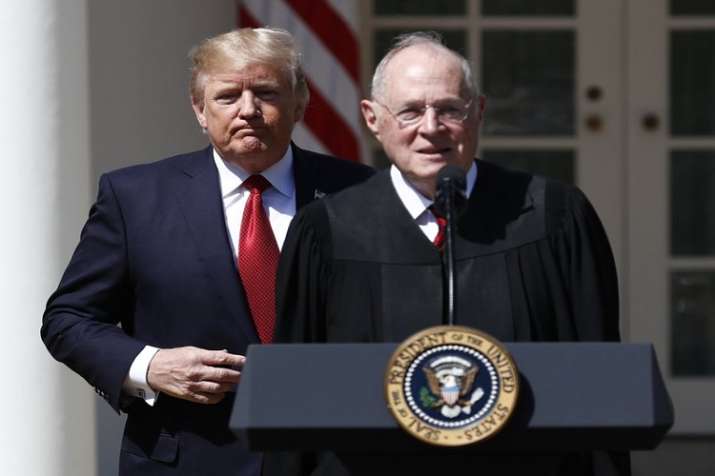 US Supreme Court's longest-serving member Justice Anthony Kennedy announced his retirement on Wednesday. He has served the US court for 30 years. The announcement by the Supreme Court's press office came hours after the court was adjourned for the term.
It has been the greatest honour and privilege to serve our nation in the federal judiciary for 43 years, 30 of those on the Supreme Court," Kennedy was quoted as saying.
The retirement of Kennedy, who has also been the second-oldest justice gave President Donald Trump the chance to cement conservative control of the high court and to nominate a justice.
Talking about the further course of action, Trump said that the search for a new Supreme Court justice will begin immediately. He is likely to choose from a list of possible nominees that he had put out during his campaign. However, confirmation of a new judge may be challenging with full control in the hands of Congress.
The nominee to Justice Anthony Kennedy could be confirmed by a 51-vote majority in the Senate, although Democrats say that the vote on the next justice should not come before the midterm elections in November.
"There are certain names that are just outstanding, names that you already know, to be honest with you," the US president said. "But they will come from the list of 25 people," referring to a list of potential candidates the White House published in November 2017.
Kennedy's Supreme Court tenure began on February 18, 1988, after he was nominated by a Republican president who was in office from 1981 to 1989. 81-year-old Kennedy, who has been on the Supreme Court since 1988, will step down on July 31.
The US Supreme Court is made up of nine justices, four regarded as progressive and five as conservative.