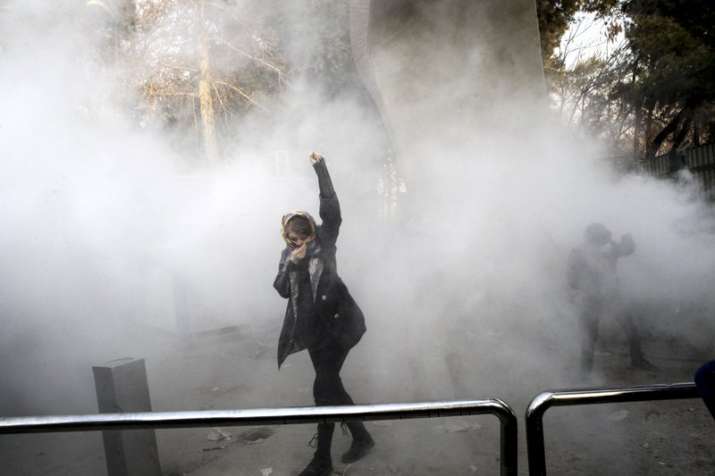 Iranian Supreme Leader Ayatollah Ali Khamenei on Tuesday blamed Iran's "enemies" for stirring up unrest in the country, as the death toll from days of anti-government protests climbed to 22.
In his first remarks since the demonstrations erupted on last Thursday over the country's economic policies, Khamenei accused the nation's enemies of "joining forces" against Iran and blamed them for the violence in recent days, the BBC reported.
"The enemy is waiting for an opportunity, for a flaw, through which they can enter. Look at these events over the last few days. All those who are against the Islamic Republic... they have all joined forces in order to create problems for the Islamic Revolution," he said.
Khamenei did not make clear exactly who he was referring to, but Iranian President Hassan Rouhani earlier slammed US President Donald Trump for tweeting his support for the protestors on Monday.
Nine people, including a child, died overnight in violence in central Iran, the state media said. The protests are the largest since the disputed 2009 presidential election. Millions took to the streets that time against the election of President Mahmoud Ahmadinejad.
Some 450 people have been arrested in the last few days for "destroying public property and attacking people", said Deputy Governor of Tehran province Ali Asghar Naserbakht. 
On Tuesday, Trump wrote another tweet, slamming the Iranian government as "brutal and corrupt".
"The people of Iran are finally acting against the brutal and corrupt Iranian regime. All of the money that President Obama so foolishly gave them went into terrorism and into their pockets. The people have little food, big inflation and no human rights. The US is watching!"
Other Iranian officials had blamed "foreign agents" and an online "proxy war" waged by the US, the UK and Saudi Arabia for the violence.
The EU called on Iran to guarantee its citizens the right to peaceful protest, saying it has been in touch with Iranian authorities and is monitoring the situation.
Turkey expressed concern at the unrest spreading and warned against any escalation.
The protests began in the city of Mashhad last week, initially against price rises and corruption, but have since spread amid wider anti-government sentiment.