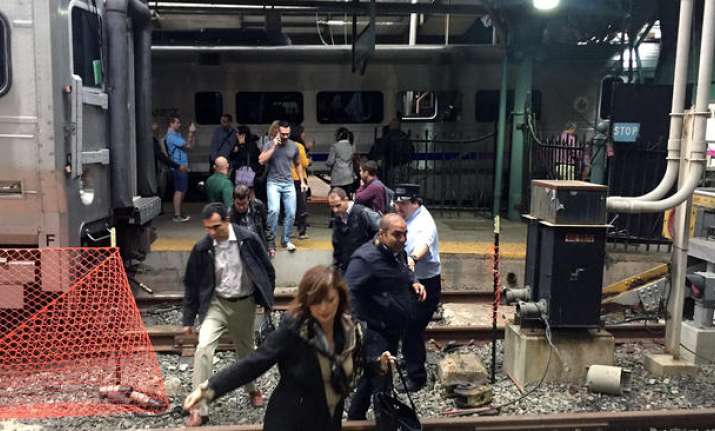 A commuter train crashed into a terminal of the New Jersey Transit Hoboken station on Thursday during rush hour, reportedly injuring around 100 people.
The accident occurred around 8.30 a.m. local time (6 PM IST)
#Hoboken #traincrash train hit the station pic.twitter.com/5xteTKLavU

— Leon O (@monduras) September 29, 2016
Images of the accident posted on social media showed mangled metal, wires and debris scattered all over the floor, RT news reported.
A commuter train ran right through Hoboken Station in NJ just now. https://t.co/BcizrqRgkL pic.twitter.com/kP1KTIbdeh

— Ninja Economics (@NinjaEconomics) September 29, 2016
A passenger said the commuter train that crashed in New Jersey was crowded and plowed through the platform at the end of the line.
Bhagyesh Shah told NBC New York he saw a lot of people bleeding and a woman pinned under concrete Thursday morning at New Jersey Transit's Hoboken station.
Shah said he was in the back of the train but that many people use the front cars, since it makes for an easier exit. He says the train plowed into the platform. He says it lasted only a couple seconds, "but it felt like an eternity."
He told the TV station that passengers in the second car broke the emergency windows to get out.
Images from the scene showed damage to the rail car and extensive structural damage, but there's no official word on the number of injuries.
A user from New York City, under the name Inscrutable India, wrote: "Lucky to be alive ... we in the second car of the train that crashed in Hoboken," New York Daily News reported.
Several persons who were on the train tweeted they felt "lucky to be alive".
Photos from the scene indicate the train rammed into several support columns that led to collapse of part of the station's ceiling. The cause of the accident was not immediately known.
(With inputs from agencies)