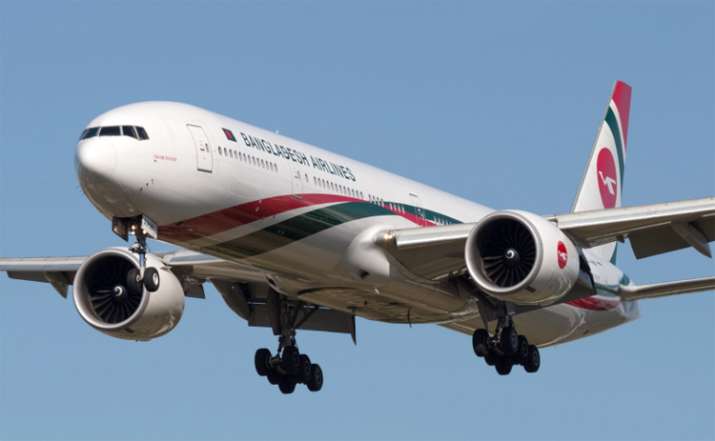 Bangladesh on Tuesday said that it foiled a terrorist plot to hijack a commercial airliner and crash it into the homes of top-level politicians. Officials said they have arrested four persons, including a pilot of the national carrier and his mother, for their alleged links with a banned militant outfit and plotting a dramatic plane attack.
31-year-old Sabbir Emam, a first officer of Biman Bangladesh Airlines, was arrested along with his mother Sultana Parvin, 55, and two other members of the banned militant outfit Jama'atul Mujahideen Bangladesh (JMB), said Mufti Mahmud Khan, director of Rapid Action Battalion's (RAB) legal and media wing.
Khan said the pilot revealed during primary interrogation about a possible plot to crash a plane into the homes of top politicians or hijacking it to Middle East with passengers held hostage.
RAB has been able to save Bangladesh from probable unwanted and serious terrorist incidents by arresting Sabbir Amam, Khan said at a press conference.
"As part of a sabotage design, Sabbir Amam planned an attack using an aircraft to strike the houses of top-ranking officials of the government," Khan said. "Or he planned to take the passengers as hostages and take the plane to the Middle East." 
Khan did not identify the government officials who were the target of terrorists.
The police came to know about a plot to carry out militant activities involving sabotage of aircraft operation from a JMB activist who was arrested in an anti-militancy drive in Narayanganj near Dhaka on October 26, he said.
"The elite force members then conducted drives at different areas in Mirpur from last night till this morning and detained the four JMB operatives," Khan was quoted as saying by the Daiy Star.
Sabbir has been working for the airline since 2014 and used to fly Boeing 737 aircraft as the first officer. Earlier, he had worked with Regent Airways from 2010 to 2014.
An official from the national carrier's public relations department told Daiy Starr that Sabbir had refused to fly after the anti-militancy raid at a building in Mirpur's Mazar Road in September this year.
Amam was allegedly linked to suspected militant leader named Abdullah, who was killed in early September along with six other people during the raid. The apartment building where militants were holed up was owned by the pilot's father.
Earlier, Bangladesh police had blamed homegrown terror group JMB for the two terror attacks, including the Dhaka cafe siege, in which 22 people, including 17 foreigners, were killed in the brutal late-night attack in Gulshan area of the capital on July 1.
During a joint operation police killed six of the attackers.
Bangladesh has witnessed a number of Islamist attacks since 2013 on foreigners, liberals and religious minority with the Islamic State and the al-Qaeda making competing claims.
The government has consistently dismissed their claims, saying foreign terrorist groups have no presence in Bangladesh and the attacks were carried out by homegrown outfits.
Prime Minister Sheikh Hasina's government blames the JMB for a number of deadly attacks in Bangladesh. Several foreigners, bloggers and rights activists have been targeted by the group in recent years.
The Islamic State claimed the brutal Dhaka cafe attack but the government has insisted that the group has no base in the country and the attacks were carried out by homegrown militant groups like the JMB.