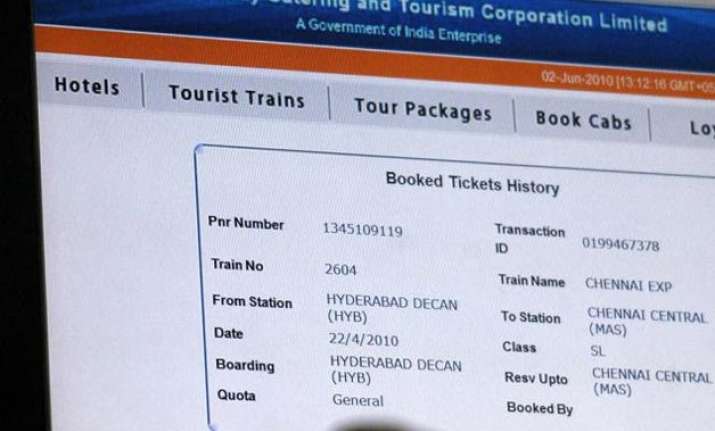 New Delhi: Starting February 15, a maximum of 6 tickets can be booked online by an individual user in a month on Indian Railway Catering and Tourism Corporation (IRCTC) website.
According to a senior Railway Ministry official said, this has been done to prevent any possible misuse of online booking facility as it has been felt that a genuine passenger does not require to book tickets online for more than six times in a month.
Under the existing system of online booking, one user can book tickets on IRCTC website 10 times a month but from February 15, it will be reduced to six times, he said.
According to an analysis of usage of quota of booking 10 tickets in a month, it indicated that 90 per cent of users were booking upto six tickets in a given month and only 10 per cent were booking more than six, he said, adding that it is suspected that the 10 per cent users might be involved in touting activities. 
The IRCTC has already put in place various checks for the online booking on its website like only two tickets can be booked by an individual using his or her user-id in a day for advance reservation booking from 8 AM to 10 AM.
Individuals are allowed to book only two tickets per user-id in a day for Tatkal booking from 10 AM to 12 noon.
Quick Book option also remains disabled from 8 AM to 12 noon.
All ticketing agents have been barred from booking tickets from 8 AM to 8.30 AM for general bookings, from 10 AM to 10.30 AM and 11 AM to 11.30 AM for Tatkal booking in AC and non-AC classes respectively.
Booking is not allowed through e-wallet and cash cards from 8 AM to 12 noon.
There is only one booking in one user login session except for return/onward journey between 8 AM to 12 noon. 
With PTI Inputs