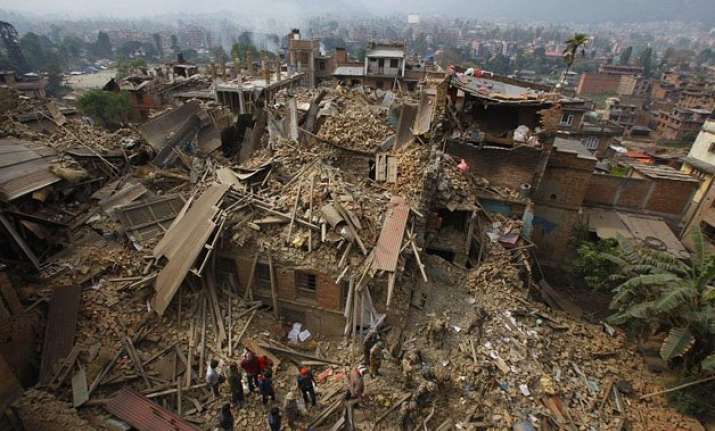 A massive earthquake today jolted North India, Pakistan and Afghanistan around 3 pm IST.
15 people were reportedly killed in Pakistan, according to Geo News
Tremors were felt for around 40 seconds in national capital Delhi, which disrupted normal life and created panic among denizens.
The US Geological Survey said the epicentre lay 45 km south-southwest of Jarm in Afghanistan, around 240 km from capital Kabul.
It put the intensity at 7.7 on the Richter scale.
The quake in Hindu Kush region was 190 deep, explaining why it was felt at such large distances.
We bring to you 11 powerful quakes that caused severe devastation to the world
1. Nepal Earthquake 2015
A powerful earthquake shook Nepal on April 25 near its capital, Katmandu, killing over 2,200 people, flattening sections of the city's historic center, causing widespread damage, and trapping many under its debris.
The earthquake destroyed many historical landmarks, including the UNESCO World Heritage temples at Basantapur Durbar Square and the Dharara tower, both in central Kathmandu. The Kathmandu Valley is listed as a World Heritage site. The Buddhist stupas, public squares and Hindu temples are some of the most well-known sites in Kathmandu, and now some of the most deeply mourned.
This is the fifth significant earthquake in Nepal in the last 205 years, including a massive one in 1934 that levelled the city.
Determining the largest earthquakes can be a difficult task. Below here is a list of all known 10 Strongest earthquakes measured or estimated to have a moment magnitude scale or Richter magnitude scale of 8.5 and above.
2. Valdivia Earthquake, Southern Chile
Magnitude: 9.5 Mw
Deaths: 1,655
Date: May 22nd, 1960
It was the world's most powerful earthquake that killed approximately 1,655, injured 3,000 and left two million homeless. It occurred in the afternoon and its resulting tsunami affected southern Chile, Hawaii, Japan, the Philippines, eastern New Zealand, southeast Australia, and the Aleutian Islands in Alaska.
3. Great Alaskan Earthquake
Magnitude: 9.2
Deaths: 141
Date: Mar 27th, 1964
The 1964 Alaskan earthquake was massive, resulting in destruction of structures, and causing tsunami. The devastation following the earthquake caused about 141 deaths. It was the most powerful recorded earthquake in U.S. and North American history, and the second most powerful ever measured by seismograph. The shaking lasted about 4 minutes.
4. Off the west coast of northern Sumatra
 
Magnitude 9.1
Deaths: 227,898
Date: Dec 26th, 2004
The 2004 Indian Ocean earthquake was an undersea megathrust earthquake, with an epicentre off the west coast of Sumatra, Indonesia. The earthquake lead to a series of devastating tsunamis along the coasts of most landmasses bordering the Indian Ocean, killing over 230,000 people in fourteen countries. The countries hit by the eartquake were Indonesia, Sri Lanka, India, and Thailand.