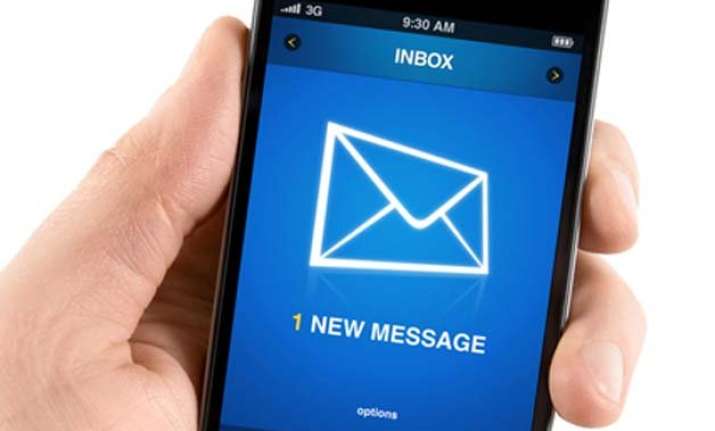 Did you ever receive that dreaded text message from telecom service provider that discounted and free packages won't apply the next day and that normal rates would apply? Did you ever wonder as to why the Telecom Companies charge normal rates on some specific days and not allow us to use the free packages? The answer lies in 'Black Out Days' as listed by the respective service provider.
Transparency in Tariff Offers
The Telecom Regulatory Authority of India (TRAI), the apex regulatory body in the telecom sector issued detailed direction in September, 2008 to all telecom service providers regarding transparency in their tariff offers. The direction was an outcome of large number of complaints from consumers and the consumer's organizations indicating that the tariffs offered by the service providers are offered in such manner that they are complex and confusing which makes it difficult for consumers to make an informed choice.
TRAI initiated a consultation process on this issue and also held open house discussions before coming up with these directions. Suggestions from all stakeholders were taken into consideration before the directions were issued. The directions were issued in four broad areas namely
Directions relating to Key Tariff Information
Directions relating to Promotional Offers
Direction relating to condition or barrier in cases of migration from one plan to another in certain cases
Directions relating to Black out days
 Key Tariff Information
TRAI directed all telecom service providers to provide detailed information to consumers on each tariff plan offered by them in both Vernacular & English language. The information about each plan should include the following:
Title
Rental/Fixed Fee
Billing Cycle/Validity
Free Call Allowance/Talk time
Tariff per Unit for:

Local Call
STD
ISD
SMS
National roaming

 
Not just this, all this information has to be prominently displayed at all the retail outlets of the telecom service providers.
Promotional Offers
All the service providers must provide the following information to public with respect to any promotional offer,
The eligibility criteria for such promotional offer
The opening and closing dates of such promotional offer (within the existing limit of ninety days)
Barrier in cases of migration from one plan to another in certain cases
No service provider should put any condition or barrier (tariff or non-tariff) such as the requirement of obtaining new SIM or change of telephone number, etc., to a consumer who wishes to migrate across plans or across postpaid and prepaid platforms.
The Black Out Days
TRAI has allowed the service providers to fix a maximum of five (5) 'black out' days in a calendar year. 'Black out' days are those days on which free or concessional Voice Calls/SMS offered under any plan/ package including discounted rates are not valid. Normal rates will be applicable on these blackout days. In the beginning of each year, the telecom service providers are asked to specify the 'black out' days for that year. They are free to specify different set of dates for each telecom circle. Different service providers can fix different black out days. But once they are fixed, this cannot be changed. For example, the list of black out days for 2015 has different days listed for different circles.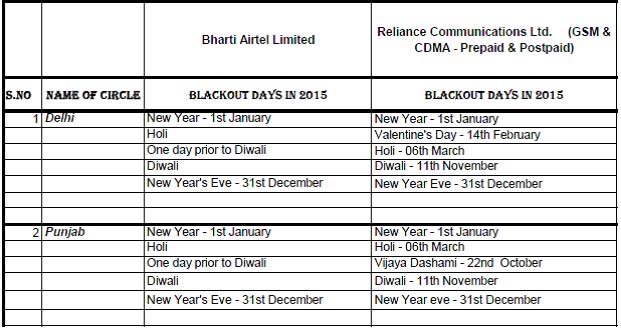 But the service providers are supposed to clearly indicate the following to the consumer before opting for any package
The list of 'black out' days for that circle
SMS/call charges applicable on such specified 'black out' days.
Those of you who wish to know more about the rights of a telecom consumer are encouraged to read the Consumers' Handbook on Telecommunications by TRAI.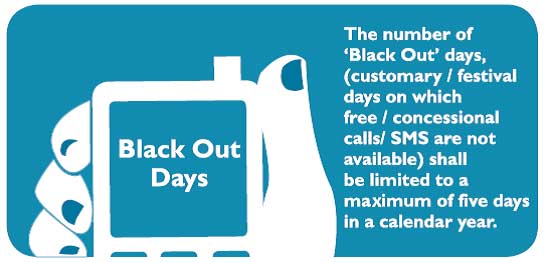 (Rakesh has been working on issues related to Right to Information (RTI) for a decade. He is a Data/Information enthusiast & passionate about Governance/Policy issues.)