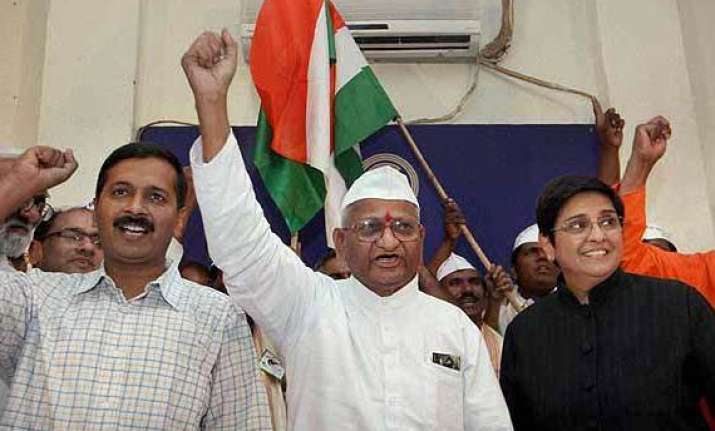 New Delhi, Jun 22: Gandhian activist Anna Hazare today formally announced his intention to begin what he called 'Second Freedom Movement' from August 16 from Jantar Mantar, Delhi.
 
"If they don't allow us to sit on fact anywhere in Delhi, there is  space for us to sit in jail", said Hazare at the Press Club of India here.

Hazare's associate former IPS officer Kiran Bedi, who was present,  said, 'we will go to jail before Anna goes.'
 
A defiant Hazare said, he was ready to face lathis, and even bullets, but will continue to fight for a strong Lokpal till his last breath.
 
"The government is under the impression that after successfully disrupting Baba Ramdev's protest, it will do the same with us this time. Hum lathi khaane ko taiyar hain, sirf laathi nahin, goli bhi khaane ko taiyar hain", Hazare said.
 
Hazare lambasted Kapil Sibal for saying that a strong Lokpal, as suggested by the civil society, will act as a parallel government.
 
"Is the Election Commission a parallel government? Is the Supreme Court a parallel government?", asked Hazare.

The government, the Gandhian activist said, is trying to mislead public opinion and spreading wrong information.
 
Hazare pointed out that only 0.25 per cent of the Centre's  revenue has been recommended as the Lokpal's budget by the civil society, but Kapil Sibal on Tuesday said 1 per cent of total GDP has been demanded to be earmarked for the Lokpal, which was wrong.

"What is wrong in bringing the CBI under the Lokpal?", asked Hazare.
 
"There is collusion between the corrupt bureaucrats and the politicians, because of which hardly 10 paise out of a rupee of government money reaches the people. No work happens without bribes in any government department. There is all-pervading corruption from top to bottom", said Hazare.
 
"There is danger from Pakistan, but the danger from corruption is far more", said the aged activist.
 
Hazare also alleged that the government was trying to "browbeat" 4.5 lakh NGOs, by bringing them under the purview of the Lokpal.  The government's draft of Lokpal bill is not at all intended to root out corruption, he added.
 
Hazare ruled out any further talks with the government on the Lokpal issue. "We have lost trust in the government".
 
Kiran Bedi, on her part, described the government's draft of Lokpal bill as a "hoax". There is nothing for the common man in the bill, because only bureaucrats above deputy secretary rank will be covered under Lokpal. The common man doesn't go  for work to senior bureaucrats, said Bedi.