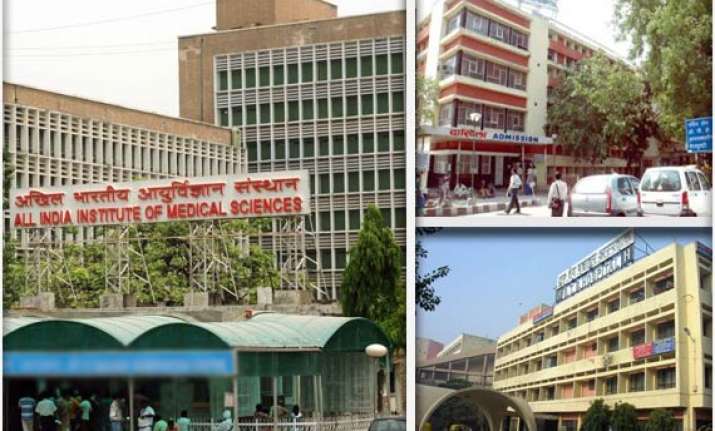 New Delhi, Dec 9: The Cardiovascular and Neuro Sciences Centre of AIIMS, which houses the VVIP ward, is among five hospital buildings here that do not have the No-Objection Certificate" from the Delhi Fire Services.

Besides Cardiovascular and Neuro Sciences Centre of All India Institute of Medical Sciences (AIIMS), other buildings including New Trauma Centre at Ram Manohar Lohia hospital and the New Ward Block of Guru Tegh Bahadur Hospital do not have a 'No Objection Certificate' Fire Services, Director Delhi Fire Services A K Sharma said.

The fire department has raised objection to the safety measures in the dental department of Maulana Azad Medical College and Trauma Centre of Deen Dayal Uphadhaya Hospital under the Delhi government.

Sharma said certain loopholes regarding fire safety were pointed out to the authorities of these hospitals but none of them had come back with an undertaking of meeting the criteria.

Absence of sprinkler system in the buildings, smoke management system and compartmentalising of rooms to prevent spread of fire are among the main criteria that have not been met by the hospital authorities, he said.

Fire officials said "as soon as there is a fire in a building, the sprinkler system rains water and helps douse it.  A proper smoke management system is one which drives the smoke out of the building and not inside which could choke and cause death of patients.

"Compartmentalising implies that the arrangement should be such that fire in one block should not spread to the other.  This will help conduct rescue operations faster", according to Sharma.

The New Trauma Centre of RML hospital is a 78-bed independent six storied fully air-conditioned building while the Cardiovascular and Neuro Sciences Centre has nearly 400 beds exclusively for surgery patients. The new quake-resistant ward at Guru Teg Bahadur hospital is a 500-bed building.

According to an official of AIIMS, a small fire had broken in the Cardio Neuro (CN) Centre in June 2006 at the air-conditioning unit. No one was injured.