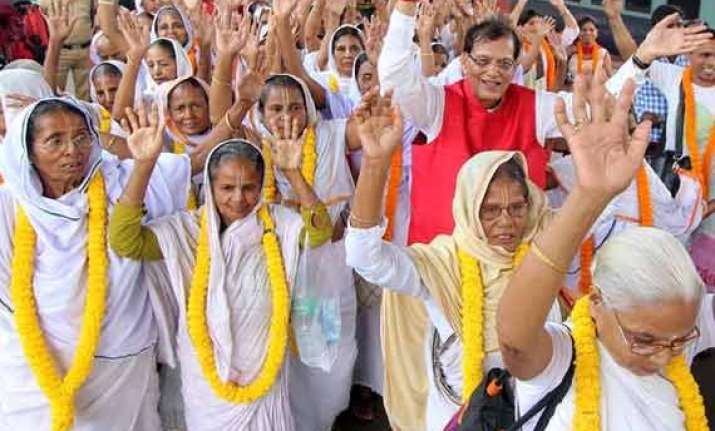 Vrindavan:  The 1,000-odd widows of Vrindavan Tuesday evening marched through the narrow streets of this holy town, demanding a cleaner Yamuna and urgent steps to check pollution in the river.
Several hundred of them were holding "diyas" in their hands to draw public attention towards the sad state of the river in the Braj area.
"The virtually dead river has been reduced to a vast sewage canal that carries waste and toxins from upstream cities and Delhi," said Roopa, an elderly widow.
Lalita Adhikari, 104, said: "Like others, we too are concerned about the river. Most of us come to Vrindavan because of our love for Krishna and the Yamuna river, but now the situation has become unbearable."
On the initiative of NGO Sulabh International, the widows began their three-day Diwali celebrations at the seven ashrams here.
All the ashrams have been decorated tastefully with lights and earthen lamps.
The festival mood was infectious as locals too joined them in singing bhajans.
Earlier treated as "inauspicious", the widows were not allowed to take part in rituals till Sulabh took a keen interest in their uplift.
The NGO takes care of the health and day-to-day requirements of the widows. Vocational training is also provided to many.
Sulabh founder Bindeshwar Pathak said: "Sulabh will continue with its nationwide campaign for the welfare of the widows."
Pathak said he intends to draft a bill and hand it over to parliament to improve the plight of widows, abandoned by their families. He said he will urge all political parties to support the proposed bill.