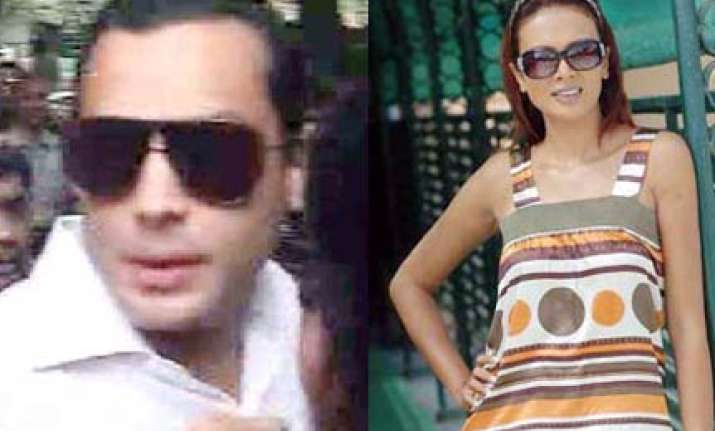 Supermodel Viveka Babaji's family on Thursday issued a statement in Mumbai saying that she was not depressed prior to her death and that Viveka and Gautam Vora had planned to marry.
The statement was read out at a noisy press conference by Dale Bhagwagar, who was appointed spokesperson by Viveka's family. Bhagwagar fielded all questions related to Viveka's death. 
'Viveka's mother  Dayawati strongly denies that she was depressed. Viveka had a good sense of humour. She was an independent girl with leadership qualities and was supporting her mother financially', said Bhagwagar. 
The family spokesperson revealed that Gautam Vora and Viveka were planning to marry, and Gautam had even asked her mother to persuade Viveka to get a checkup done to establish whether she would be in a position to deliver a child. 'They had also got their kundalis (horoscopes) matched', he added.
Explaining why the family had not met the media so long, Bhagwagar said that the family was from a middle class background and was not used to media hype and attention. 'Media was the last thing on their mind after this sorrowful incident', he said. 
Gautam Vora had proposed to Viveka and had also spoken to her mother.  "In the last few days before her death, Viveka had only spoken about Gautam with her mom', said the spokesperson. About ex-friends, Bhagwagar said, Rohit and Kartik belonged to Viveka's past, whereas Gautam was Viveka's present. 
He however admitted that Viveka and Rohit had planned to marry several years ago, but it came unstuck when it was revealed that Rohit was married. She  then became close with Kartick who was also her business partner, but they also drifted apart, he said. Viveka's family is planning to give to the police th entire e-mail conversations that Viveka had prior to her death, Bhagwagar said.
'Forget depression, she was full of happiness and was supporting her mother. You can check her Facebook site, which clearly shows she can't be demotivated or depressed', said the  spokesperson. The family is confused their daughter could take such a step like that. The family is waiting for clues from the police', he said.