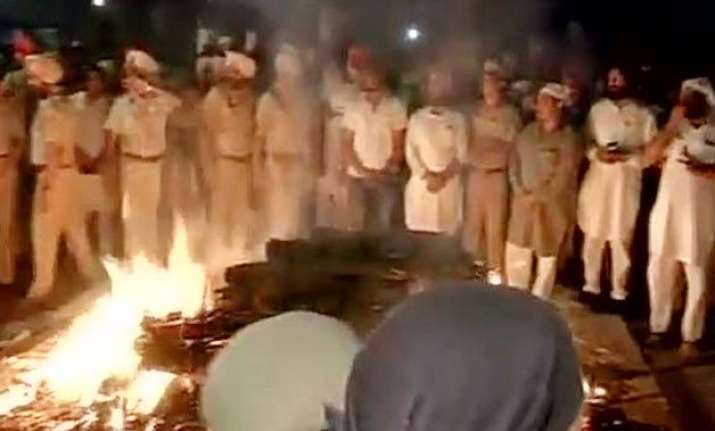 Moga: The family of the 13-year-old girl Arshdeep Kaur who died after she was molested and pushed from a bus of Orbit Aviation Pvt Ltd, co-owned by Deputy Punjab CM Sukhbir Singh Badal, was cremated on Sunday. As per the reports of the police, CM Parkash Singh Badal visited Landeke and met the victim's family, but did not attend the cremation.
The victim's father gave consent for the autopsy and cremation.
Earlier, the family had agreed to the postmortem on the victim's body after her father Sukhdev met Deputy Commissioner P S Gill, ADGP Crime Iqbal Singh Sahota, IG NRI Affairs Gurpeet Deo, DIG Amar Chahal, IG PS Umranangal and SSP Moga J S Khaira at the Civil Hospital.
Speaking to the media persons after meeting, Sukhdev said: "I am satisfied with the police action till now and I want to cremate my daughter. No one has pressured me or forced me to sign on autopsy papers. I have done it with my own will. Please leave me and my family alone and let me take my daughter for her last rites."
A section of the victim's relatives present at the hospital blamed the family of entering into a settlement with the government for money.
On the other hand, AAP leaders alleged that the government had forced the family into agreeing to the autopsy and protested on the hospital premises and later at the cremation ground.
Later in the evening, Moga deputy commissioner P S Gill confirmed that Orbit Aviation will be paying a compensation amount of Rs 24 lakh to the victim's family. While Arshdeep's injured mother Shinder Kaur and her father Sukhdev will get Rs 10 lakh each, Rs 4 lakh will be given for her brother's education.
"We got an official communication from Orbit that they will be paying a compensation of Rs 24 lakh. We handed over the cheque to the family today but they asked us to transfer the amount to their accounts. Since all family members do not have bank accounts, these will be opened on Monday and the money will be transferred."
In the meantime, a section of Landeke residents termed the victim's cremation "forced last rites to suppress the matter".
"No prayers were said for her soul's peace, as if the girl had no importance. She was cremated as if it was just a task that should be finished. It was a brutal murder," said villager Gurtej.
(With Agency Inputs)