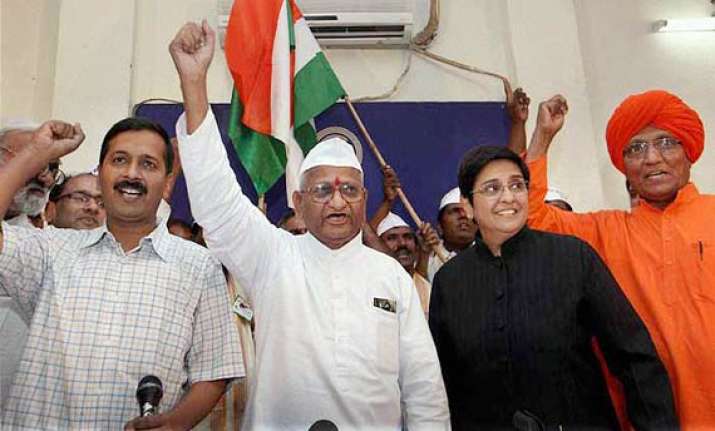 New Delhi, Apr 21: Team Hazare today presented a united face and ruled out resignations of the Bhushans father-son duo from the Joint Drafting Committee for Lok Pal Bill, saying that the focus should be on drafting the bill rather than raking up the property issues of the Bhushans.
 
Addressing a crowded press meet at the Press Club of India here, Arvind Kejriwal and Kiran Bedi fielded questions from mediapersons and alleged that the present round of allegations against the Bhushans was a clear move by "corrupt forces trying to target the civil society representatives".
 
Kejriwal pointed out that the Bhushans had themselves gone to the Supreme Court on the CD issue as it involved a judge and had demanded an impartial probe to be monitored by the Supreme Court.
 
He also pointed out that the Bhushans had applied for farmhouse plots in response to an ad from Noida authority published in  newspapers. "There was no discretionary allotment nor were the plots given at throwaway rates", said Kiran Bedi. 
 
So far, there is no substance of truth in the allegations and yet we are demanding an impartial probe, said Kejriwal.
 
He said, the focus should be on drafting the Lok Pal Bill. The Bhushans were inducted in the panel only because they were behind the drafting of Jan Lok Pal Bill and knew its nitty-gritties, he added.
 
Kejriwal said, his India Against Corruption was going to launch a website on Friday to invite public participation in the drafting of the Lok Pal Bill. "We want the Joint Drafting Committee's proceedings to be completely transparent and participatory", said Kejriwal. 
 
Kejriwal said, the Bhushans have themselves said that if there were irregularities in the Noida plot allotments, they may be cancelled. 
 
We are appealing to the Bhushans to bear with the sufferings they are facing because of the smear campaign, said Kiran Bedi.  They are joining the panel for a national cause and not for any individual cause, only because they have the legal expertise, Bedi added. 
 
The two activists appealed to the media not to fall in the trap of vested interests trying to derail the focus on Lok Pal Bill.
 
"There has been huge overwhelming support for the Bhushans asking them not to give in. The country needs their legal expertise", said Bedi.
 
Nobody from the civil society side will resign from the panel, Kejriwal and Bedi said. 
 
'Just think, if the members resign, who will benefit? If the Panel breaks up, who will benefit? Comments were made against Hegde, Anna Hazare and the Bhushans. Corrupt elements inside and outside the government are behind this calumny campaign', said Kejriwal.
 
Kejriwal said, Anna Hazare will begin his nationwide  tour from April 29 beginning with Varanasi. He will visit Sultanpur on April 30, Lucknow on May 1, attend the JDC meeting in Delhi on May 2, and visit Guwahati on May 3.