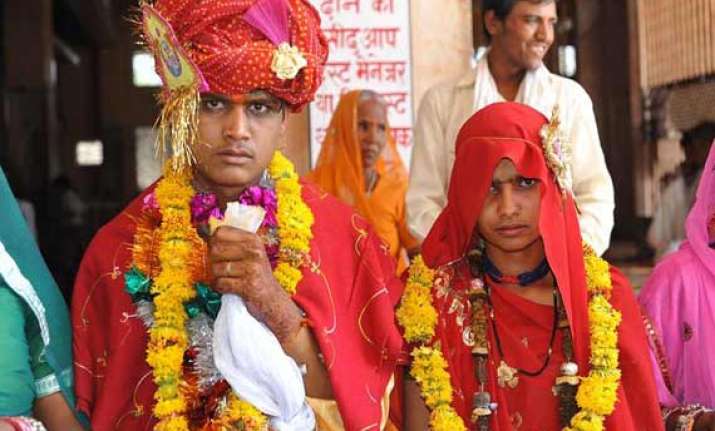 Kolkata: India has witnessed a decline in child marriage in the last two decades, but going by the slow pace it will require another 50 years to abolish the practice from the country, according to UNICEF.
"Child marriage has been declining at a rate of one per cent per year in the last two decades, but at this rate it will be eliminated in 50 years or so," UNICEF Child Protection Specialist in India Dora Giusti said.
"This is way too long and millions of girls will have married by then," she warned describing the scenario in the country as "alarming".
"A study among married women currently aged between 20-24 revealed that 43 per cent of them were married before 18 and two out of every five women during the survey said they were married as children," Giusti explained.
Incidentally, a United Nations report in July said that India has sixth highest prevalence of child marriage, with one in every three child brides living in the country.
Stressing that the practice of child marriage was still prevalent in certain communities and groups in the country, the UNICEF official held deep-rooted superstitious beliefs as responsible for its slow elimination.
"Child marriage is still a widely accepted practice ruled by social norms and gender roles. Girls are still seen as a burden and not worthy of investing on. For generations, once girls hit puberty, their parents have married them off in the false belief that this will also protect them from violence," Giusti explained.
"Often communities are resistant to welcome changes. Furthermore, there are other factors, such as poverty, high costs of marriage, lack of education and other opportunities for girls that undermine change the practice," she elaborated.
Asked if the India government's cash transfer scheme as incentive to encourage retention of girls in school has helped in containing the practice, she said, "A recent study showed that the scheme has helped keep girls in school and therefore delay child marriage, but it did not have a long-term effect as it does not contribute to changing parents' mental set-up."