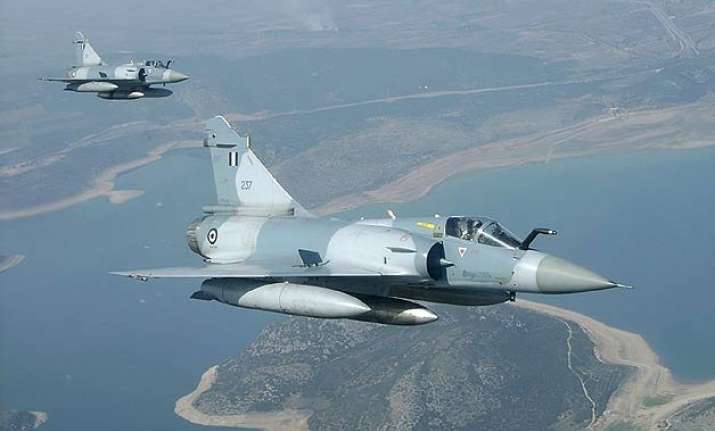 Istres: French defence major Dassault Aviation on Wednesday handed over the first two upgraded Mirage 2000 fighter aircraft with advanced navigational, radar and missile systems to India amidst continuing stalemate on the over USD 20 billion Rafale contract.
The entire fleet of 48 aircraft is being upgraded with the help of Dassault Aviation and Thales under a Rs 10,000 crore deal signed in July 2011.
The upgraded Mirages comes with advanced navigational, radar and missile system besides a fully integrated electronic warfare suite. The mid-life upgrade is expected to extend the life cycle of the aircraft by another 10-15 years.
While the deal was signed for 51 aircraft, at least four have crashed since then.
Citing the successful completion of the phase 1 of the Mirage upgrade deal, Dassault said the "next logical step" towards the 'Make in India' initiative was the Rafale contract which has been has been "95 per cent finalised".
Company's CEO Eric Trappier underlined his company's contribution to the Narendra Modi-led government's 'Make in India' policy and said the Mirage upgrade programme would serve it as the rest of the fleet would be upgraded in Bengaluru and his firm and Thales would offer their complete support.
A deal on Rafale would be a step in that direction, Trappier said.
"Rafale aircraft has been chosen by India after a comprehensive selection process in the frame of the MMRCA competition and exclusive negotiation is ongoing.
"Rafale is the next logical step. HAL and Indian industries will contribute to the Make in India policy by developing and manufacturing it locally," he said.
Trapper hoped that the contract would be signed soon. "It's 95 per cent finalised. The contract is being reviewed with the Defence Ministry (India). I prefer we take time now than all the clarifications coming later," he told reporters at a Dassault facility.
India is negotiating with Dassault since 2012 for the purchase of 126 Rafale aircraft.
However, differences have cropped mainly due to guarantee clause. India wants Dassault to stand guarantee for the 108 Rafales that would be made in India by state-run HAL.