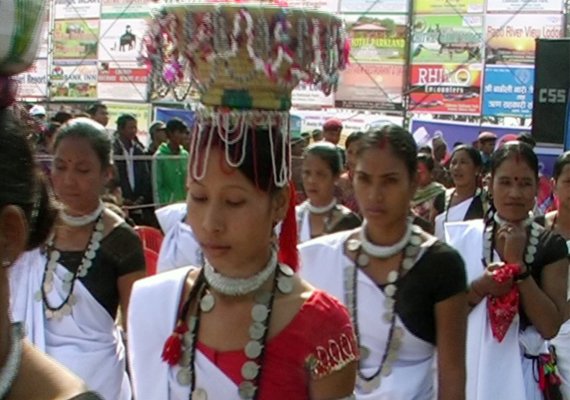 Patna: Reducing their dependence on Valmiki Tiger Reserve in north Bihar, local tribal women are being trained to adopt eco-friendly livelihoods and make new products by weaving grass.
A group of 26 Tharu tribal women living in remote villages of Doan valley were recently trained to develop products like toys, lunch boxes, lampshades, etc using locally available Moonj and Kharai grasses.  
"The new initiative would not only give a new dimension to the Tharu art and culture by taking it beyond its geographical boundary but also help in generating income for the community, which will ultimately reduce villagers' dependence on the tiger reserve," Valmiki tiger reserve's field director Santosh Tewari said.
Tharus, who inhabit the Himalayan foothills around Valmiki forests, are proficient weavers, but their traditional skill was so far limited to making baskets by woven grass.  
But now after training by the Bangalore-based Srishti Institute of Art, Design and Technology, they are coming up with new grass products such as bedroom slippers, casserole cases, small furniture, insulation cases for tiffin boxes and even cases for laptop and i-pads.
"The women are very adept at weaving grass, but they needed to think differently in order to create items that could find an urban market and realise their potential to earn a decent living," said Rupa Gandhi, chief of social entrepreneurship division of Wildlife Trust of India which is spearheading the project.
The woven grass products are friendly to environment and promote cultural heritage, wildlife conservation and animal welfare.
Naga Nadini from Srishti Institute said this fine grass weaving skill of Tharu women will have an edge over the available grass handicrafts in regional and national markets. 
"Before conducting the workshop, the team took stock of grass products currently available in markets and assessed buyers' demand," said Shipra Koyal, a designer who is experimenting on embroidery using Moonj threads.
There are 25 villages in Doan Valley with a population of around 18,000 and WTI is implementing livelihood improvement and forest dependency reduction measures in seven villages at present.