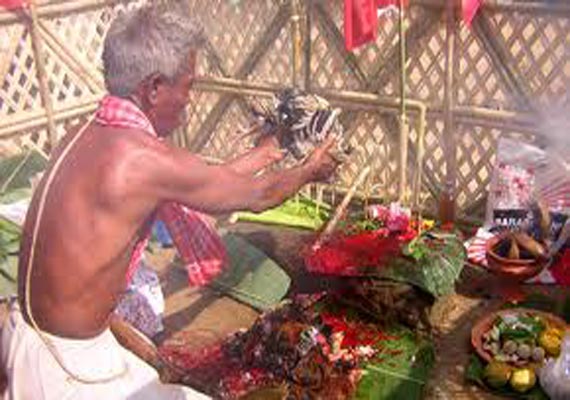 Agartala, Jul 31: A centuries-old tribal custom in Tripura called Ker Puja was celebrated with devotion on Tuesday.
Ker Puja is celebrated two weeks after Kharchi Puja and is still celebrated within  the premises of the royal palace and with financial support from the state government.
Ker is considered the guardian deity of Vastu Devata.  A large piece of bamboo bent in a particular fashion assumes the image of Ker and is fast rotated to produce a sound.
The 'chantais', or head priest, is regarded as king on the occasion.  It is generally believed that the former rulers used to perform this Puja for the general welfare of the people of the state.
The literal meaning of Ker is boundary or specified area from where no one is allowed to enter or come out for two and a half days during the celebration.
The area in and around the royal Ujjayanta palace here as well as Puran Habeli, the erstwhile capital of Tripura, around 12 km east of this city, are notified for Ker Puja.
The puja rituals are carried out at government expense as the Tripura government has been holding good its promise to the state's erstwhile royal family for over six decades to organise the puja.
During Ker Puja, all kinds of amusement, recreation and ceremonies are banned in the notified areas.
Before starting of the puja and at the end, Tripura police troopers fire cannons or guns.
Two age old beliefs lie behind the ritualistic incantation of a specified boundary for the Ker Puja to safeguard the interest of the people from any calamitous misfortunes, diseases, destitution and to save people from any external aggression.
Offering and sacrifices constitute an important aspect of Ker Puja.
At the end of the 517-year rule by 184 kings, on Oct 15, 1949, the erstwhile princely state of Tripura  was mrged into the Indian Union after a merger agreement was signed with Kanchan Prabha Devi, then regent maharani.
The agreement made it obligatory for the Tripura government to continue the sponsorship of temples, pujas and festivals earlier organised by the royals and it continues to this day.
Tripura is the only state in India where the state government is at the forefront of funding many specified religious festivals of both tribals and non-tribals. The tradition has been going on since Tripura merged with the Indian union and has been on during Left rule in the state.