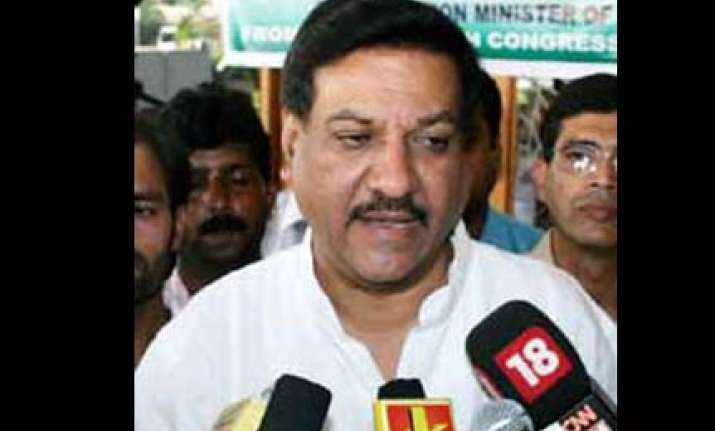 New Delhi, Nov 13 :  Taking over reins of the scam-hit Maharashtra government, Chief Minister Prithviraj Chavan today said he will have to take "tough decisions" while finalising his council of ministers to meet the "high expectations" of the people and leaders in the national capital.
Chavan, the successor of Ashok Chavan who was forced to resign after his name figured in a housing scam, said the names of the council of ministers from the Congress quota would be finalised in a day or two.
He held discussions with Congress President
Sonia Gandhi
and senior party leader Pranab Mukherjee here and is understood to have discussed the ministry formation exercise.
"Care will be taken to maintain regional and social balance while finalising the council of ministers," Chavan told reporters here.
Asked whether "tainted" ministers would find place in the council of ministers, the chief minister merely said people at large and leaders in Delhi have certain expectations from the state government and "we will make efforts to meet those expectations".
"At times we will have to take tough decisions," he said.
Chavan said he would also meet Prime Minister Manmohan Singh and Defence Minister A K Antony, who is also incharge of party affairs in the state.
On allocation of portfolio, he said the arrangement with the NCP during the previous government would continue.
As per the power sharing pact, the Congress can have 23 ministers while NCP can have 21 ministers besides the post of Chief Minister and Deputy Chief Minister respectively.
"Our endeavour would be to put in place a council of ministers as soon as possible and begin preparations for the winter session of the assembly that begins in Nagpur from December 1," he said.
Chavan also rubbished reports that he was illegally allocated a flat in a building in Wadala area of Mumbai.
"I do not think there is anything illegal in it. I was allocated the flat from the quota meant for members of Parliament," he said.
Chavan said his mother had requested for allocation of a flat as she was undergoing treatment for cancer at the Tata Memorial Hospital from the quota meant for former members of Parliament and in 2003 the allocation was made in his name.  PTI