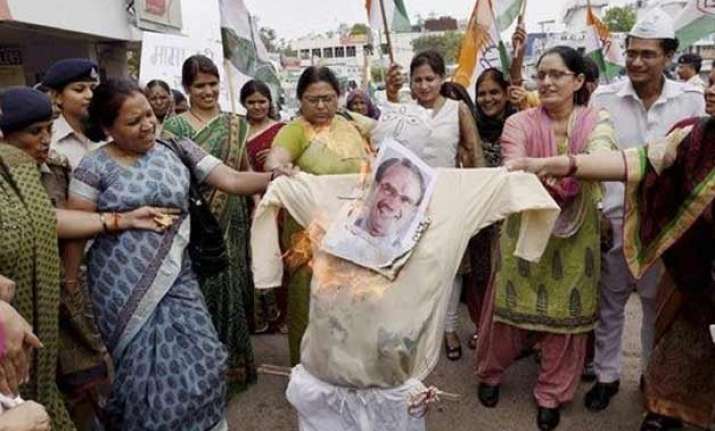 1. Congress MPs plan to stage dharna
New Delhi:
Congress MPs plan to stage a dharna today in front of the statue of Mahatma Gandhi in the Parliament House complex to demand action against those involved in the scam which the party is insisting is bigger than the 2G spectrum allocation scam. Sonia and Rahul could participate in the dharna.
2. Cong to launch Nation-wide stir against Modi Govt
New Delhi: Congress said it will launch a nation-wide agitation on July 22 against BJP-led NDA government for its alleged failures to fulfil electoral promises.
3. MIM appeals supporters to join Mumbai's Dalit mass protest
Mumbai: In yet another attempt to portray it to be the party of Muslims and Dalits, the All India Majlis-e-Ittehadul Muslimeen (AIMIM) has asked its supporters to join the mass protest rally – Aakrosh Mahamorcha – here against growing atrocities in the state meted out to dalit and other backward communities.
4. RSS meet from today
Nainital: The RSS will organise its three-day annual meeting in Nainital next week. The meeting will start on July 22 and will conclude on 24.
5. Piyush Goyal to address inaugural session at "Business of Lighting Conference"
New Delhi: Piyush Goyal, the Minister of State (IC) for Power, Coal & New and Renewable Energy will today address the inaugural session at "Business of Lighting Conference"
6. Court to hear Janhavi Gadkar bail plea
Mumbai: Corporate advocate Janhavi Gadkar who allegedly under heavy influence of alcohol rammed her car into a taxi on a Freeway killing two persons injuring four, moved for bail again. The court posted the matter for hearing on July 22 said her lawyer.