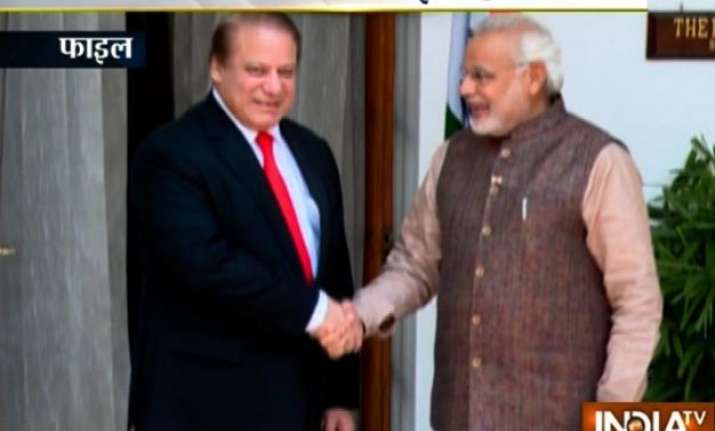 1. PM Modi, Nawaz Sharif hold bilateral talks in Russia
Ufa:
Prime Minister Narendra Modi today met his Pakistani counterpart Nawaz Sharif on the sidelines of a Shanghai Cooperation Organisation (SCO) summit in the Russian city of Ufa. The meeting of the two premiers have raised the hope of a thaw in frosty ties between the South Asian rivals.
2. Congress to meet Rajasthan governor to demand Raje's removal
Jaipur: A Congress delegation, led by Rajasthan Pradesh Congress Committee chief Sachin Pilot, will  today meet state Governor Kalyan Singh and demand sacking of Chief Minister Vasundhara Raje, who is embroiled in the Lalit Modi-controversy.
3. Ravi Shankar Prasad to brief media on "Digital India Week" celebrations
New Delhi: Minister of Communications and Information Technology Ravi Shankar Prasad will today brief media regarding the details of "Digital India Week" celebrations.
4. Launch of 'Nidhi Aapke Nikat' programme by EPFO
New Delhi: Bandaru Dattatreya, MoS, (IC), Ministry of Labour & Employment, will launch 'Nidhi Aapke Nikat' a public outreach programme by EPFO.
5. Parliamentary Panel to Take Up Food Safety Issues
New Delhi: In the wake of safety concerns raised over processed food products, a Parliamentary panel is slated to discuss regulation of toxic contents in packaged food today.
6. Maharashtra Congress to organize state-wide agitation
Mumbai: Maharashtra Congress will today organize a state-wide agitation on every District Collectorate to protest against the sharp rise in farmer suicides & sorruption in the state. The party will also demand for complete loan waiver for the distressed farmers.
7. Counting of votes Bihar Legislative Council polls today
Patna:  Counting of votes for election held for 24 MLC seats of Local Authorities Constituencies will be done today. The counting will start at 08:00am and the results will be announced by 12 Noon
8. Com Min to hold meeting with banks on FDI in e-comm
New Delhi: The Commerce and Industry Ministry has called a meeting of public sector banks today to discuss issues related with e-commerce retailing.
9. ISRO to Launch Heaviest Commercial Mission
Chennai: Indian space agency ISRO will today launch its heaviest commercial mission that would put five British satellites on board PSLV-C28 from the spaceport of Sriharikota.
The 62.5 hour countdown began on July 08 at 07.28 AM and was progressing smoothly for the launch scheduled for 09.58 PM today.