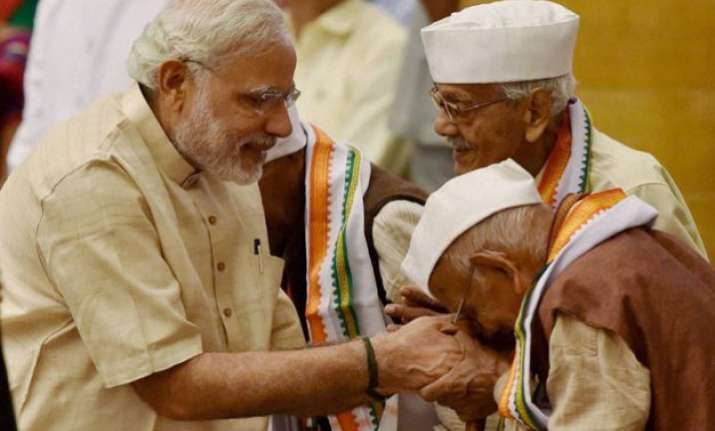 Gaya: Tearing into the ruling Nitish Kumar- Lalu Prasad alliance, Prime Minister Narendra Modi on Sunday asked the people of Bihar to use the upcoming assembly polls as an opportunity to "free themselves from the jungle raaj" by electing a BJP-led government to and develop and modernise the state.
"You have suffered their arrogance, deceipt and exploitation for the last 25 years. Do you want such a rule to continue for another five years," the Prime Minister asked at a mass rally.
Pension of freedom fighters has been increased by the government after introducing a hike of 218 per cent in DA in 2014-15, home minister Rajnath Singh said on Sunday.
In a message on the occasion of 73rd anniversary of Quit India movement, Singh said he bows to freedom fighters, who worked tirelessly to make India independent in 1947.
Launching a counter-offensive against the scathing remarks by Prime Minister Narendra Modi on him, RJD President Lalu Prasad today accused Modi of lowering the standard of the PM's post.  
"Narendra Modi has given a new low to the standards of a Prime Minister. People are looking at him as a joke now," Prasad said in a tweet.
New Delhi: Delhi Chief Minister Arvind Kejriwal today accused Prime Minister Narendra Modi of "blocking" AAP government's development even as he mockingly said that all 67 party MLAs were ready to work from inside Tihar jail, in an apparent reference to the arrest of three lawmakers in various cases.
"In six months they have arrested three of our MLAs. But we have 64 more MLAs and at this pace they won't be able to arrest all of us even in 10 years.
In a bid to thwart the cross border infiltration, Army has deployed over 5,000 additional soldiers at potential hotspots along the Indo- Pak border.
With spike in terror attacks in Jammu and Kashmir, Security forces have deployed over 5000 additional troops to new infiltration hotspot along the Line of Control, a top army commander was quoted as saying to a leading newspaper.