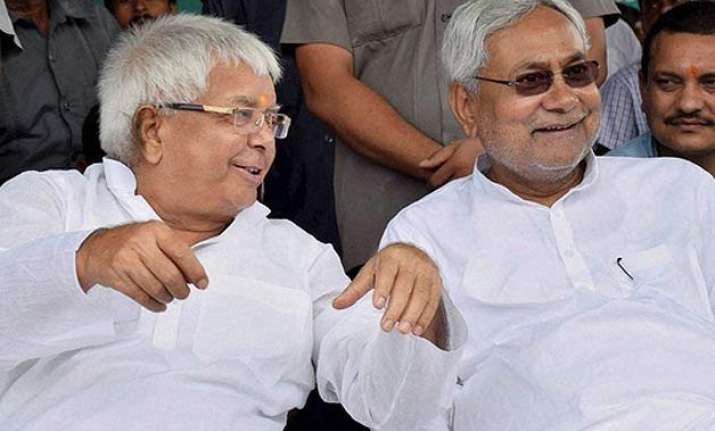 Patna: Launching a counter-offensive against the scathing remarks by Prime Minister Narendra Modi on him, RJD President Lalu Prasad today accused Modi of lowering the standard of the PM's post.  
"Narendra Modi has given a new low to the standards of a Prime Minister. People are looking at him as a joke now," Prasad said in a tweet.
Modi had taken a swipe at the JD(U)-RJD alliance in view of the Bihar election, in a BJP "Parivartan rally" at Gaya today.
"In his earlier jungle raj in Bihar, a new experience of jail has been added which threatens to make 'jungle raj II' all the more damaging," he had said.
The PM's barb was directed at the recent jail term served by the RJD President at Ranchi in connection with the multi-crore fodder scam. Lalu Prasad's conviction had disqualified him as a Lok Sabha member from Saran and prohibited him from contesting poll for 11 years.  
Prasad said in his tweet, "The Prime Minister should ask his friend Amit Shah what else he has learnt in addition to falsehood, mis-campaign and dividing people from the jail."
He alleged that the attack on him was out of fear of return of Mandal as an issue in the coming state election.  "Those generating fear of 'jungle raj-2' are people themselves afraid of 'Mandal raj-2'. This election will be Mandal raj-2 versus kamandal raj-2," the RJD chief said referring to the return of the 1990 electoral fight that was dominated by the Mandal Commission report issue versus Ayodhya episode.
Continuing to take potshots on Modi, Prasad said that the PM should have given details of the work done in his one-year-and-three-months tenure.
He should tell what he has done for Bihar, the RJD chief said and suggested the PM "to look forward instead of becoming a ghost of past."
Bihar Chief Minister Nitish Kumar on Sunday described the Narendra Modi government as a "union Twitter government that listens, acts and responds only on twitter".
"Finally we have a government that could be truly called a 'Union Twitter Government' that listens, acts and responds only on twitter," Nitish Kumar wrote on twitter.
He asked Modi to explain what he did for the farmers of the country in the past one year and accused him of doing nothing vis-a-vis providing enhanced minimum support price for farm produce.
Nitish Kumar said it was "heartening" that Modi started his speech at a rally in Bihar taking cognizance of his (Nitish) tweets.
"Modiji, even though you didn't answer my questions, (it) was heartening to see you open your speech at Muzaffarpur taking cognizance of my tweets."
Nitish Kumar also took a jibe over Modi's promise not to give election ticket to anyone with criminal background.
"Modiji, you spoke passionately of decriminalising politics, but conveniently forgot and did nothing in a year.
"We commit no ticket to criminals. Now, show courage and commit to this in Bihar today," he said.
The Janata Dal-United leader reminded the prime minister that people of the country were still waiting for the Rs.15-20 lakh he had promised before general elections last year.
Bihar's assembly elections are due later this year.