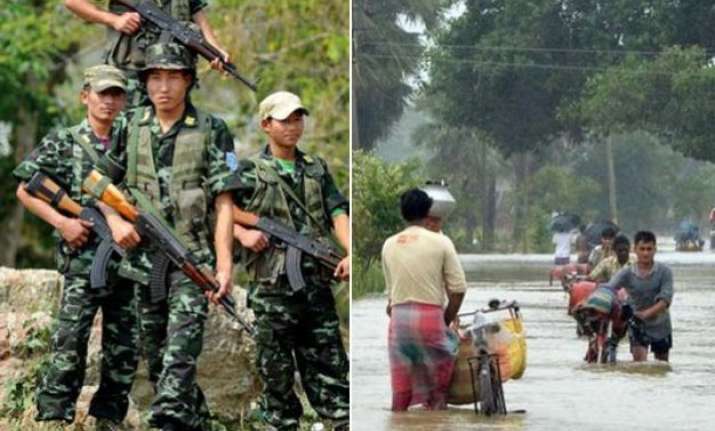 New Delhi: With an aim of ending insurgency in Nagaland, the government on Monday signed a peace accord with key Naga outfit The Nationalist Socialist Council of Nagaland (NSCN-IM).
The announcement was made by Prime Minister Narendra Modi at his 7 Race Course Road residence in the presence NSCN-IM leader Thuingaleng Muivah.
New Delhi: Confrontation between government and opposition is set to escalate with Lok Sabha Speaker Sumitra Mahajan today suspending 25 Congress members for five days for "persistently, wilfully obstructing" the House".  
The Speaker 'named' (identifying for action) the 25 Congress members who were carrying placards and shouting slogans in the Well while pressing for resignation of External Affairs Minister Sushma Swaraj and Rajasthan Chief Minister Vasundhara Raje over Lalit Modi row and Madhya Pradesh Chief Minister Shivraj Singh Chouhan over Vyapam scam.  
New Delhi: In a climbdown, BJP has agreed to bring back the key provisions of UPA's land law including the ones on consent clause and social impact assessment and drop controversial amendments brought by the Narendra Modi Government in December last year through an ordinance.
Sources said all the 11 BJP members in the Joint Committee of Parliament on land bill today moved amendments seeking to bring back social impact assesment and consent clause.
External Affairs Minister Sushma Swaraj today said she had not made any request to the British government for issue of travel documents to controversial former IPL chief Lalit Modi and asserted that all allegations against her were "baseless and unfounded".
Swaraj managed to speak a few sentences in the Rajya Sabha amid slogan-shouting by Congress members seeking fixing of accountability in the Lalitgate and Vyapam scam but could not complete her statement, as Deputy Chairman P J Kurien adjourned the House till 1200 hours amidst the din.
More than 180 people have lost their lives and nearly one crore people were affected in floods in West Bengal, Gujarat, Rajasthan and Odisha.  
The toll is the highest in West Bengal where 69 people have died so far in flood-related incidents that include lightening, wall collapse, electrocution and drowning.