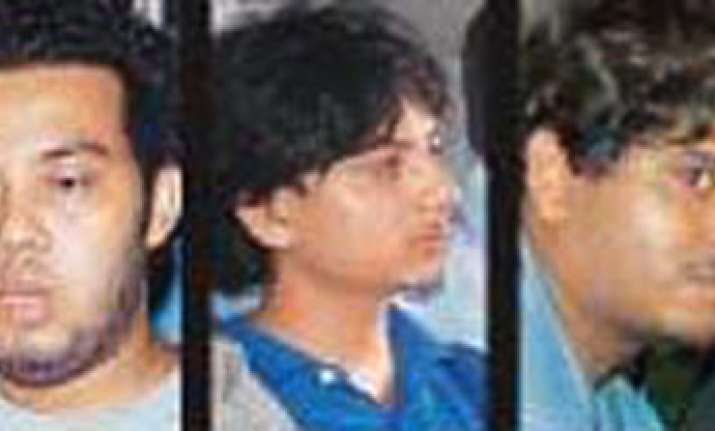 New Delhi, Feb 10 : It was a stigma that robbed them of everything. Rajkumar, Krishna and Vijay Mandal, the three domestic helps arrested by the CBI for the double murder of Hemraj and Aarushi, lost their job and are still struggling to find respect, reports Times of India.
Rajkumar did not find a job anywhere after he got bail. Neither did Dr Praful Durrani and Dr Anita Durrani, his employers since his early childhood, take him back. He was released on bail, after 90 days in jail, only because the CBI could not keep the accused behind bars without filing a chargesheet.
Rajkumar's brother-inlaw, Mahendra, told this correspondent on phone from Delhi: "Tortured for three months and framed, and with his photograph having appeared prominently in most newspapers, Rajkumar was recognized and rejected everywhere he went in India. But, maybe even that held some good for him.
He was ultimately forced to go home to Kapilvastu in Nepal,, where he still lives with his parents and a younger brother. The gritty boy started studying again, and soon passed his class 12 examination. Now, he is doing his first year in a Bachelor of Education." May be now he will earn respect and a good living too.
Now that Rajkumar's name has been officially cleared, his lawyer Naresh Yadav will move the "appropriate court to seek compensation and seek prosecution of some CBI officers".
Like Rajkumar, Krishna too was unemployed. Previously an assistant at Dr Rajesh Talwar's Noida clinic, he has out of job ever since his release from jail. 
 Krishna had earlier told  the TOI reporter:  "Nobody would give me a job. Things got so bad that even my brotherin-law lost his job because his employer got to know of his relationship with me. And, in our joint family, we had a tough time making ends meet. A retired air force officer stood by us and a close relative who works abroad kept sending us a little money. Otherwise, we would have starved to death."
His niece, who has stood solidly behind him since the CBI first arrested him, did not believe this correspondent and shut the door on him when she was told that Krishna's name had now been cleared.  
Krishna's lawyer FC Sharma said: "The truth has prevailed at last. But, when he returns from Nepal, I will move an appropriate court to seek compensation, for all the years of ignominy he and his family faced. I hope he can now come back from Nepal, and get a decent job here, again."
Vijay Mandal too lost his job in the NCR. The fact that he does not hide the fact that he had been to jail, ensures that he stays jobless. He is still living with his parents in Bihar's Madhubani district where he helps his father on his modest agricultural plot. And, his health has been indifferent ever since his arrest.  
Mandal's brother-in-law, Rajendra, who lives in Delhi, said: "I was so overjoyed that I wept. I have never forgotten how Vijay wept in a Ghaziabad court on August 8, 2008, telling the court that he had been framed by the CBI. And, I have never forgotten how he had to stay in jail for three extra days because he could not provide the necessary sureties for his bail.
 I hope today's news gets Vijay a good future and a job somewhere. I will write to him soon. I will try to help him get a job in Delhi. Noida brings back terrible memories, so we will not go there."