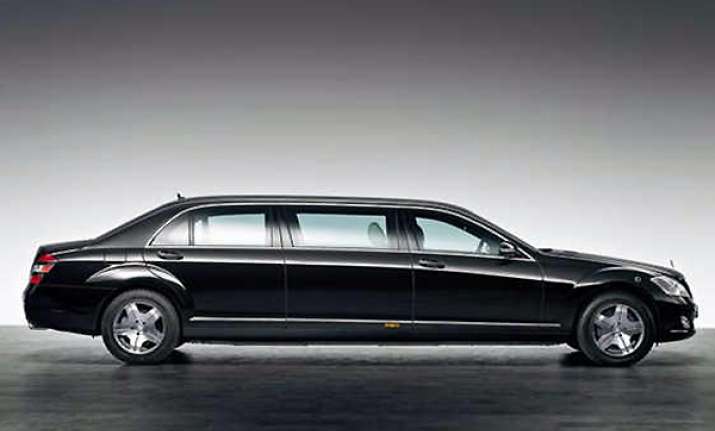 New Delhi, Jul 24:
The President of India has 20 to 25 luxury cars, but the eyecatcher is the Mercedes Benz - S 600 Guard Pullman (2008-present).
It was based on the Mercedes Benz S 600 L Guard, but in limousine form with an extra-long wheelbase.
It includes a rear entrance with increased headroom, 4 seats behind driver partition.
Other features included reinforcement of the links between the suspension components and the bodyshell, specifically targeted modification of the suspension components themselves, an additional brace (strut tower brace) between the front suspension struts, two additional steel springs at the rear to complement the air suspension, larger twin-calliper front brake discs.  
The vehicles were delivered beginning in late 2008. The production launch marked the 80th anniversary of the Mercedes-Benz special-protection unit.
The President of India travels in the black Mercedes Benz S600 (W221) Pullman Guard approx 6 crore. It's a custom-built, heavily armored limousine which meets the requirements of the highest protection class VR6/VR7.
The armor is designed to protect against military rifle shots. It also offers resistance against fragments from hand grenades and explosives.
The president's motorcade also consists of the former presidential car, a black Mercedes-Benz W140 armoured limousine, which is now being used as a spare vehicle.
The Prime Minister uses two black, B7-level armoured 2009 BMW 7 Series High Security saloons, with one acting as a decoy vehicle.
These are escorted by the President's securitymen in five armoured black BMW X5's and multiple Tata Safari's which are a permanent part of the Prime Minister's convoy.
Both the president and the prime minister's convoy comprises 20-25 cars within the city of New Delhi, but when they have to move outside the city there convoy gets up to 170-200.
Earlier, Hindustan Motors' Ambassador was used as the official state car for all purposes. It was highly-armored and modified considerably for the use by the President and the Prime Minister.