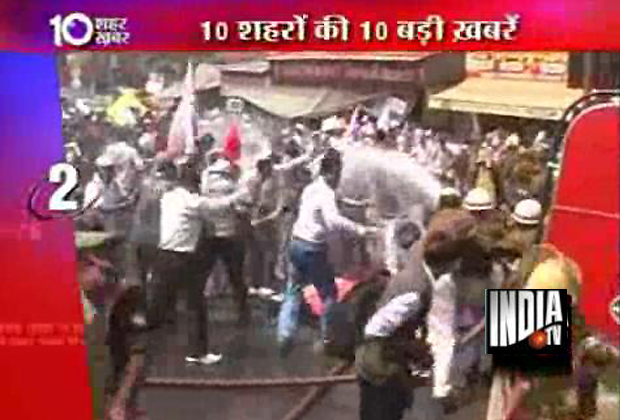 Lucknow, Mar 21: A number of aspirants who cleared the Teachers Eligibility Test (TET) were on Tuesday lathicharged by the police when they were heading toward the Vidhan Bhawan.
Demanding that the state government not cancel the TET examination, the aspirants gathered from all over the state headed toward the Vidhan Bhawan.
They were stopped by the police from proceeding and when the use of water cannons did not disperse them police resorted to baton charge, official sources said.
The aspirants under the banner of TET Passed Sangharsh Morcha demanded that they be immediately employed in primary schools as they had cleared the TET examination.
They later sent a memorandum of their demands to Chief Minister Akhilesh Yadav and sat in a dharna at Jhulela Park.
The TET exams was held last year after the arrest of then Director Secondary Education Sanjay Mohan due to alleged discrepancies in the exam and taking money for clearing the names of examinees.
For misdeeds of the officers, 72825 TET passed aspirants should not be targeted, Sangharsh Morcha officer bearer Ganesh Dixit asserted.