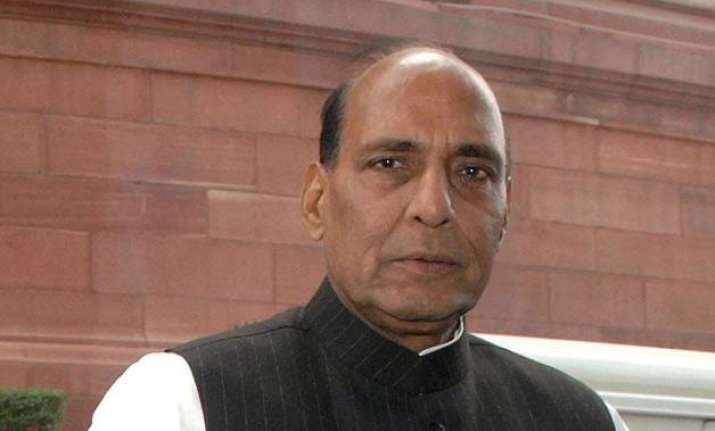 New Delhi: Union Home Minister Rajnath Singh today condemned the Wednesday's Udhampur terror attack and the continuous attempts by terrorists from Pakistan to vitiate the peaceful atmosphere in Jammu and Kashmir.
"Preliminary inquiry reveals two terrorist who attacked BSF convoy in Udhampur yesterday were Pakistanis an dthe captured terrorist reveal his identity as Md. Naveed Yakub @ Usman, r/o Faisalabad," the Home minister said.  
"We strongly condemn the attack and the persistent attempts by terrorists from across the border to vitiate the peaceful atmosphere in J&K," Singh said while making a statement in Rajya sabha on yesterday's terror attack on a BSF convoy in Udhampur.
 
One of the two militants involved in the attack was killed, while one was subsequently apprehended by the local people and the police. The apprehended terrorist was brought to Jammu, where he is being questioned by the concerned authorities, the home minister said.
Home Minister also said that he would request the state government to reward the two villagers who captured the terrorist.
The Home Minister saluted the bravery of the martyred soldiers Rockey of Yamunangar in Haryana and Shubhendu Rai of Jalpaiguri in West Bengal and said that  the government will honour them with gallantry awards.
Home Minister also announced that the ex-gratia compensation and jobs will be provided to the families of the martyred BSF personnel.
The Security Forces, including the BSF, J&K Police, & CRPF have shown exemplary courage in thwarting the attack with minimum casualties, Singh said.
Home Minister also expressed his heartfelt condolences to the families of the martyred BSF personnel and sympathies to those injured in the violence.