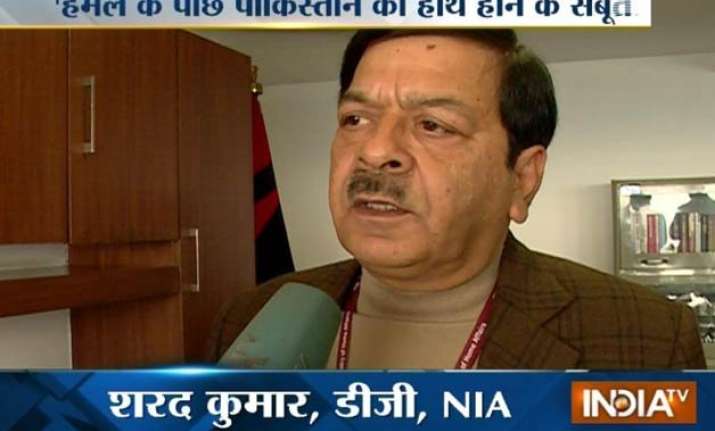 New Delhi: NIA chief Sharad Kumar has disclosed that terrorists who attacked IAF base at Pathankot were being guided by their handlers in Pakistan.
The National Investigation Agency (NIA) today took over the investigation of terrorist attack in the Indian Air Force (IAF) base attack in Pathankot.   
"Investigation is in the initial stages. Today is the first day. Call details show that calls were made to Pakistan. The call records provide ample evidence of terrorist being guided from Pakistan by their handlers, " Sharad Kumar told India TV.
He further added that both incoming and out going calls were made to Pakistan and that Pathankot attack  and  was similar to Dinanagar Police station attack. 
"The attack in the Pathankot Air Base is pretty similar to the earlier attack in Gurdaspur and both of them used the same routes to enter India from Pakistan," Kumar said
When asked about the role of Gurdaspur SP Salwinder Singh, Kumar said," The probe is in the initial stage and he is just an eyewitness as of now".
The NIA chief  said that he cannot divulge further details at this stage.The terrorists infiltrated the base on Saturday, leading to fierce gun battle with security forces.
Four terrorists were killed on Saturday after 15 hours of fighting. The fifth terrorist, according to the security forces, was killed on Monday.
Seven security personnel, including an officer of the National Security Guards (NSG), an IAF Garud commando and five Defence Services Corps (DSC) personnel, were killed by the terrorists.