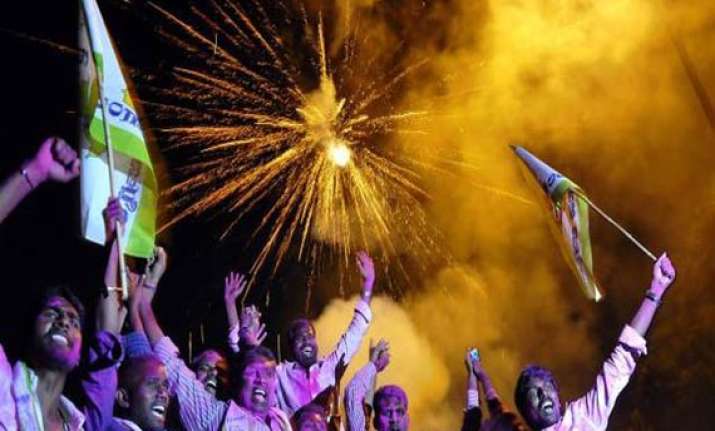 New Delhi: Countdown has begun for the formal inauguration of Telangana, the 29th State of India.
The 29th state will be born today midnight when the consolidated accounts of state of Telangana and Andhra Pradesh will be separately activated. 
As the clock strikes midnight entering June 2, Hyderabad and nine other districts of the region will erupt in a grand celebration marking the opening of a new chapter in Telangana's history. 
The marathon 3-month exercise of division of state physical properties, assets and liabilities had begun on March 1 with President Pranab Mukherjee signing the AP Reorganization Bill 2014 passed by Parliament on February 18. 
The fireworks will light up the night sky as thousands of people will gather to watch the spectacle. 
The folk artistes from the entire region will also perform to regale the crowd at 100 different places in Hyderabad and Secunderabad. 
Hyderabad city has been pained pink, the official color of Telangana Rashtra Samithi (TRS), the regional party which spearheaded the 14-year-long agitation and is going to form the first Government of Telangana after winning the recent elections. 
Pink coloured festoons, flags, banners, balloons and the cutouts of its leader K Chandrasekhar Rao have flooded the roads, important traffic junctions and every inch of available space. 
The new state will have to work with the barest possible number of officers from All India Service as the outgoing Prime Minister did not sign the file concerning service rules leaving it for his successor. 
Meanwhile, the Governor  has approved the Budget for four months and the truncated state of  Andhra Pradesh getting Rs 34,595 crore  while Telengana got Rs.26, 516 crore. 
In the meantime, the 'war room' of Telangana Rashtra Samithi has started functioning and the party has set up a separate website and email address for employees to send information about any Seemandhra employee working in any of the 10 districts of Telangana. 
K Chandrasekhar Rao has apparently told the officials that the matter should be left to respective governments to sort out after assuming office. 
In 1956, Telangana State had ceased to exist when it was merged with Andhra and Rayalaseema regions to create Andhra Pradesh.