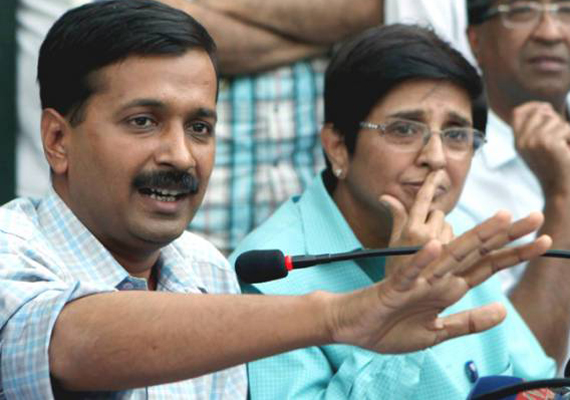 New Delhi, Mar 27: Raising its pitch against MPs, Team Anna today asked lawmakers whether the "good MPs" will support 162 of those with criminal background or demand cleansing of Parliament.
The Team also warned lawmakers that people were watching them.

The reaction came as Parliament was set to take up JD(U) Chief Sharad Yadav's notice for motion to censure members of Team Anna following their utterances against MPs.  

"Will 'good' MPs today stand by 162 MPs with criminal backgrounds or wud they demand cleansing of Parliament. Whole country would watch today," prominent Team Anna member Arvind Kejriwal tweeted.

Another key member Kiran Bedi tweeted, "Can our Parliament while debating a resolution condemning Team Anna pass a creative/strategic vision of what Parliament ought to be and how?"

MPs in Lok Sabha had hit out at Team Anna yesterday for using derogatory language against Parliamentarians and political parties during Anna Hazare's one-day fast in Jantar Mantar on Sunday.

Defending himself, Kejriwal yesterday claimed that the current Parliament has a "serious problem of credibility" as there are 162 lawmakers having criminal records.  

Bedi today said, "Parliament time is preciously expensive. It could be put to better use by resolving— parties wont give tickets to tainted candidates." She said any government official with 'doubtful integrity' is denied promotion and there is no such thing for MPs.

"Please listen to your voters appraisal," she said.  "We appeal to Parliament to pass a strategic vision which includes zero tolerance towards 'Judicial-charged MPs'. It will help restore trust," she added.

She also touched upon films having dialogues against politicians.

"How about total recall of dialogues of movies where politicians are shown corrupt/immoral and cleared by Censor Board. Any privilege against any one?

"When anti-corruption movement exposes stark realities, it is bitter truth and bound to hurt some entrenched mind sets. It is understandable," she said.