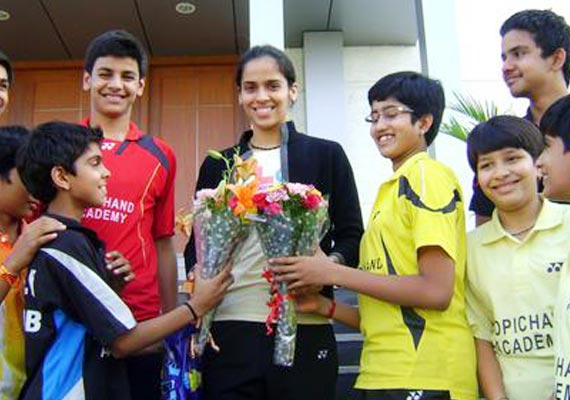 Hyderabad, Mar 20:  India's ace shuttler Saina Nehwal said today her win in the Swiss Open was inpsired by Sachin Tendulkar scoring his 100th century in cricket.
Speaking to mediapersons on her return here, Saina said: "It has been a painful wait (it took a year for her to win a major title). But, at the end I should thank Sachin Tendulkar for inspiring me to win the Swiss Open Grand Prix title."
"If you remember, I came to know about Sachin reaching the 100th century in international cricket the day I played my Swiss Open semi-final. So, it was great news and I thank him for the huge inspiration," she said, reports The Hindu.
'It is a historic landmark and I don't think there is anything more for Sachin to achieve. He is a great sportsperson. I have been telling that he fully deserves the Bharat Ratna. I don't know what is happening on this front. But, well, even if he doesn't get it, he is the Ratna of Bharat anyhow for every one of us," said a smiling Saina.
Saina, who reached the Pullela Gopi Chand Academy straight from the airport on arrival in the evening, admitted it was a really disappointing and frustrating wait.
"But, that was again not for want of effort or training. They were a variety of factors including injuries at key phases during the last 12 months," she said.
"However, since last December when I reached the World Super Series final, I think everything is falling in place," Saina pointed out.
"Definitely, I need to made lot of changes. I am aware how the Chinese shuttlers are catching me on the wrong-foot. Gopi Sir (Gopi Chand) is working on a lot of things. We will make all necessary corrections in this crucial year of Olympics," the World No. 4 said.
"I think this Swiss Open title is very significant ahead of the London Olympics for the simple reason that I had won it when many top Chinese players figured in the championship. This gave me a greater satisfaction," she explained.
"There is a lot of change in my approach now. I am more relaxed and was never excited. I tried to stay calm and I do feel that I am successful. Gopi Sir kept telling me that self-belief is the key to success besides eliminating negative points," Saina said.
The Beijing Olympics quarter-finalist reiterated that she was really happy with her preparations in this big year of Olympics. "I am getting ready for different strokes, especially from the Chinese players. We have different ideas and plans to counter them in the next few big events," she said.
"The ABC championship, the Indian Open are two of the immediate big events lined up for me before the Olympics. I hope to do well," reminded Saina, even while she was sorting out the training schedule from Wednesday itself.