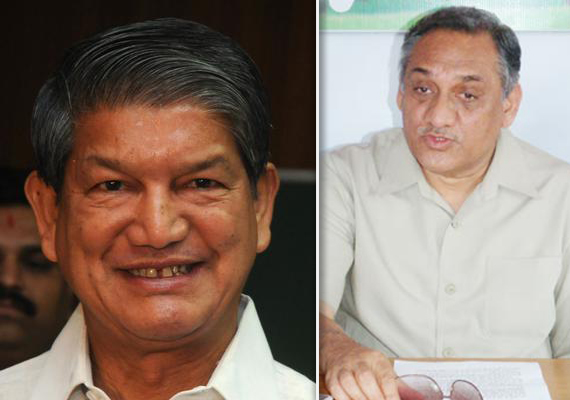 New Delhi, Mar 11: Suspense continued today over who would lead the Congress-led government in Uttarakhand, with top leaders from the state and the centre huddled up in the national capital to decide on the new chief minister.

Union Minister Harish Rawat and Party MP Vijay Bahuguna, both in the race for the top job in the state, had a two-hour meeting with AICC general secretary in-charge for the state Chaudhary Birender Singh and Union Health Minister Ghulam Nabi Azad at the latter's residence here.

Rawat said he met Azad here to put across his views on government formation in the state.

"I have put my views to him. We are not only making an attempt to form a government but to run it as well. I had requested him for a meeting because I could not meet Azad when he went to Uttarakhand," Rawat told reporters.

The meeting came a day after the party's central observers, Azad and Birender Singh, who elicited the views of the party's 32 legislators as also 2 independent MLAs in Dehradun on the leadership issue submitted their report to party chief Sonia Gandhi.

Bahuguna said "our views were sought. It is not about formation of government but challenges will come after that as well. Our opinion was sought on this. We have given it and we hope that Congress President will be apprised of our views."

The senior Congress MP said the decision on leadership issue may take a day or two.

Indications have been given by the senior Congress leadership that the leader would be an MLA, ruling out the possibility of both Rawat and Bahuguna, who are MPs. A renewed factional feud in the state party unit has failed the party to arrive at a consensus choice.

Most of the MLAs were camping in the national capital to express solidarity with their choice of leader.

Uttarakhand PCC President Yashpal Arya had also earlier met Azad and a number of party MLAs also talked to Sonia Gandhi's political secretary Ahmed Patel on the issue.

Leader of the opposition Harak Singh Rawat, PCC chief Yashpal Arya, former minister Pritam Singh and Indira Hirdesh (all MLAs) are among the top contenders for the CM's post.

In the 70-member House, Congress emerged as the single largest party with 32 MLAs - four short of majority but it managed to get support of three Independents and one MLA from Uttarakhand Kranti Dal (P) to reach the magic figure of 36.