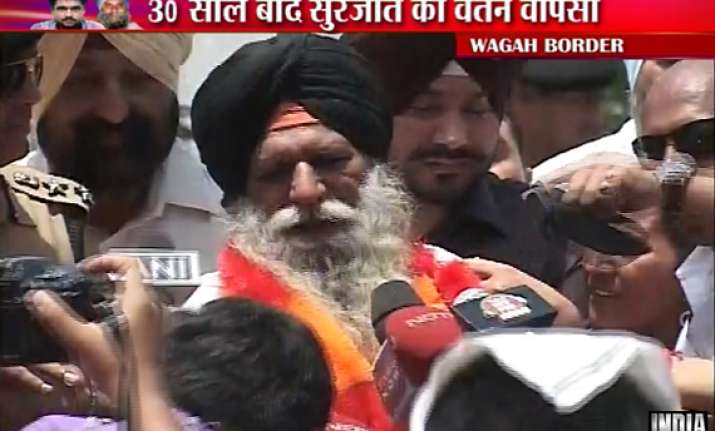 Wagah, Jun 28:
After spending 31 years in Pakistani jail, Indian prisoner Surjeet Singh today walked free and crossed over to his home country to an emotional renunion with his family.
69-year-old Singh, who released from Lahore's Kot Lakhpat Jail this morning, crossed to the Indian side at Wagah border where he was welcomed with garlands and red shawls by his family and villagers, after completing official procedures on the Pakistan side of the border.
"After 30 years, I am meeting my children. I am very happy," he told reporters here.
He said he did not have any hardship in the Pakistani jail and he got everything daily necessities like food and clothes.
Referring to Sarabjit Singh, who on the death row in the Lahore jail, he said the Indian convict was doing fine.
He said he used to meet him only a weekly basis.  Asked if Sarabjit Singh had sent any message for his family, he said, "No".
Singh served a life term following his arrest on charges of spying in the 1980s in Pakistan.
He was given the death sentence under the Pakistan Army Act in 1985. The death sentence was commuted to life imprisonment in 1989 by then President Ghulam Ishaq Khan.
Pakistani security personnel had escorted Singh to the Wagah land border crossing, where he was handed over to Indian authorities.
His release from prison came after reports emerged on Tuesday that Pakistan was to free Sarabjit Singh. But later, Pakistan clarified that authorities had actually ordered the release of Surjeet and not Sarabjit.