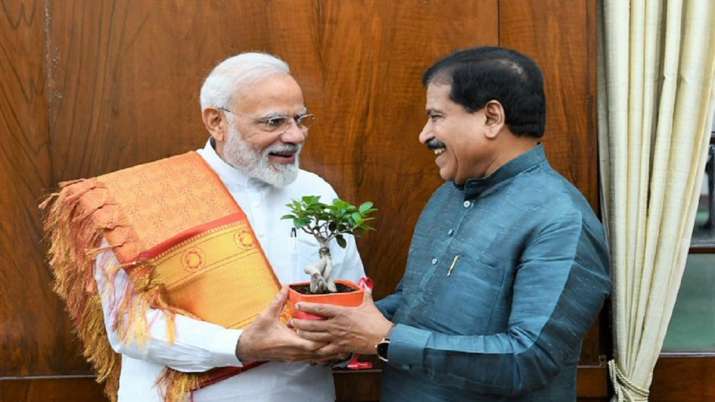 Union Minister of State (MoS) for Railways Suresh Angadi, who had tested positive for coronavirus, succumbed to the infectious disease on Wednesday. He was being treated in AIIMS, Delhi. Angadi is the second Member of Parliament who died due to coronavirus. Suresh Angadi was Member of Parliament from Belgaum. He was 65 years old.
Suresh Angadi had tested positive for coronavirus on September 11. The 65-year-old member of Lok Sabha from Belagavi constituency in Karnataka was admitted to the AIIMS Trauma Centre, which is a dedicated COVID-19 facility, around 6:30 pm on September 11.
He was being looked after by a team of doctors led by Dr Neeraj Nischal, associate professor in the department of medicine at AIIMS, sources said.
Meanwhile, offering his condolence, Prime Minister Modi said, "Shri Suresh Angadi was an exceptional Karyakarta, who worked hard to make the Party strong in Karnataka. He was a dedicated MP and effective Minister, admired across the spectrum. His demise is saddening. My thoughts are with his family and friends in this sad hour. Om Shanti."
President Ram Nath Kovind remembered, "Shocked to know the passing away of Shri Suresh Angadi, Union Minister of State of Railways. An amiable leader Shri Angadi worked tirelessly for the people of his constituency, Belagavi and Karnataka. With his indomitable spirit, he (Suresh Angadi) carried out public service with humility and perseverance. My thoughts and prayers are with his family and the loved ones."
Home Minister Amit Shah on Wednesday also expressed grief over the demise of Suresh Angadi and said he will always be remembered for his selfless service to the nation and the BJP.
"Deeply pained to learn about the passing away of MoS Railways and senior BJP leader from Karnataka, Suresh Angadi. He will always be remembered for his selfless service to the nation and party. My deepest condolences are with his family. Om Shanti Shanti Shanti," Shah tweeted.
ALSO READ | Only 60 districts in 7 states cause of worry: PM Modi on coronavirus situation during interaction with CMs
ALSO READ | WHO chief says no guarantee if any coronavirus vaccine in development will work